Natural Features & Ecosystems
The Obed Wild and Scenic River watershed lies within the Cumberland Plateau, which is in the southern portion of the Appalachian Plateaus structural province. The geology of the Obed WSR is characterized by parallel, horizontally-bedded sedimentary rock of Pennsylvanian and Mississippian age rock. The Pennsylvanian rocks are predominantly sandstone and shale, and include siltstone, conglomerate, and coal. The weathering processes on these rocks have produced an impressive array of formations, including arches, mesas, chimneys, cracks, and rockshelters. The underlying Mississippian age limestone contains oil and gas deposits which are found both within and outside the Obed WSR.
The stream topography of the area is characterized by a dendritic drainage pattern and narrow, v-shaped gorges. A focal point of the area is the Obed WSR gorge with its many sheer bluffs at the gorge rim towering over wooded talus slopes. The river valleys of the area are dotted with huge boulders which have broken from the cliff faces. The park's rivers and streams are characterized by stretches of fast, rugged whitewater and quiet pools.
The USGS in cooperation with the National Park Service recently published a report about the Obed River watershed. Read it here or you can download it on the USGS website at https://pubs.usgs.gov/of/2014/1102/.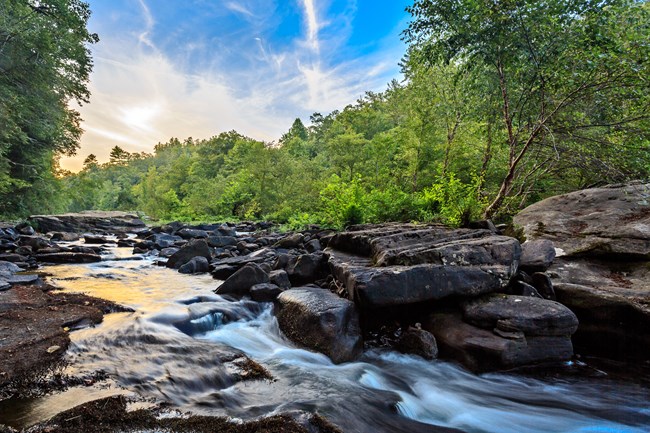 Learn about long-term monitoring of freshwater mussels & cobble bar plant communities, conducted by the Appalachian Highlands Inventory & Monitoring Network at the Big South Fork National River & Recreation Area and the Obed Wild & Scenic River. For more information, please visit https://go.nps.gov/APHN.


Last updated: November 25, 2015