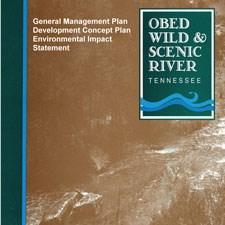 The Obed Wild and Scenic River's
General Management Plan
, drafted in 1994 and finalized in 1995, is a key guiding document in the fulfilling of the park's mission.
The General Management Plan analyzes the impacts associated with two alternative approaches to managing the park, one of which is the agency preferred alternative. The final plan consists of two documents.

The first document, the August 1994
Draft General Management Plan
, contains a discussion of the two alternatives and an analysis of their merits and environmental consequences. The second document, the June 1995 Final General Management Plan, presents a handful of minor changes to the
Draft General Management Plan
and also contains responses to written comments received from the public during the document's review period.
View the
General Management Plan
, broken into several pieces below.
---
Final: General Management Plan/ Development Concept Plan/ Environmental Impact Statement
. This 1995 document presents changes to the 1994 Draft General Management Plan. Note that page numbers listed in the side margins of this final document refer to a 1994 draft page. [9 MB PDF]
---
Obed Wild & Scenic River Draft General Management Plan Cover
. 1994. -- one page [301 kb PDF]
Obed Wild & Scenic River Introduction
-- eight pages [1.2 MB PDF]
Purpose and Need for a Plan
-- 10 pages [1.8 MB PDF]
The Proposal and Alternative
-- 43 pages [21.2 MB PDF]
Affected Environment
-- 31 pages [8 MB PDF]
Environmental Consequences
-- 12 pages [2.5 MB PDF]
Lists and Appendixes
-- 54 pages [9.5 MB PDF]
Maps
-- 11 pages [15.5 MB PDF]