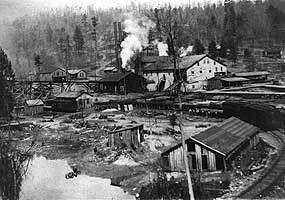 Morgan and Cumberland Counties in eastern Tennessee are renowned for their story-telling traditions. Likewise, the Obed Wild and Scenic River contains many stories of its own. Some of those stories are mired in history, while others evoke personal memories. Taken together, these stories represent just a portion of what makes the Obed WSR a very special place.
Like most early history, the farther you go back in time, the more difficult it is to confirm facts. Many of the Obed's earliest visitors did not collect or record written recollections of the area or of their experiences here. As a result, conjecture and scholarship are a few of the remaining tools that we have at our disposal to discover this area's past. There are a few elderly folks remaining in the neighboring counties of the Obed, and their stories and memories are vital to unveiling the history of the Obed.
The starting point for all of this discussion involves the question, "How did the Obed get its name"? Legend has it that the Obed was named after Obediah (Obey) Terril, a longhunter who passed through the Cumberland Plateau in the late 18th century. Presumably, the Obed and the Obey rivers were named by this same person, and both were named the Obey. Map makers later changed the name of the southern river to Obed, while the northern river remained the Obey.