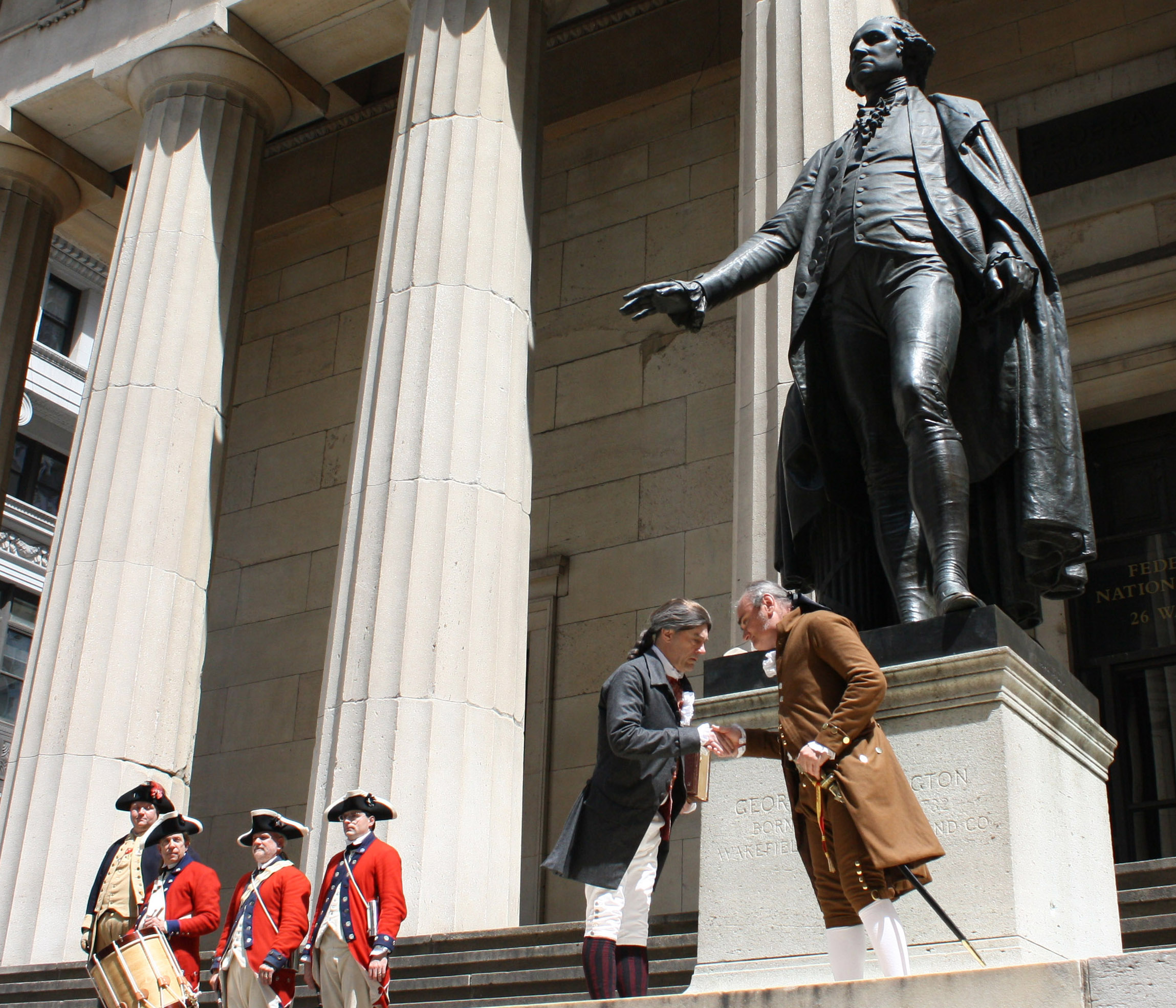 News Release Date:
May 3, 2010
Contact: Mindi Rambo, 212-668-2208
One brown suit of good American cloth?
Check.
Fifes and Drums?
Check.
Bible?
Check.
Presidential inaugurations have had their share of pomp and circumstance dating back when George Washington stood on the balcony at 26 Wall Street and was sworn in as the nation's first president.  The National Park Service Rangers at Federal Hall National Memorial re-created a bit of that fanfare April 30 with a special celebration commemorating Washington's inauguration on that date in 1789.
Under the George Washington statue in front of Federal Hall, living historians drew a large audience as they re-created the first inauguration, complete with Washington kissing the Bible after having been sworn in. Before and after the ceremony, the Fifes and Drums of the Old Barracks in Trenton, N.J. enthralled and entertained passers-by who gathered to have their photos taken with the re-enactors portraying President Washington along with Washington's Secretary of War, Henry Knox, and his wife, Lucy.
It was a perfect day for the celebration – sunny and warm – and for the ranger-led walking tour, "Washington's New York," that followed. The special tour took visitors to an array of notable sites in lower Manhattan while inviting reflection on and making connections to the significant stories, themes and political intrigues of the era. The walking tour was developed jointly in 2009 with the National Parks of New York Harbor Conservancy, a non-profit partner.
In addition to the inaugural event, there was a special talk by the living historian portraying Henry Knox about both his and George Washington's participation in the Revolutionary War, as well as the early years of the United States government. Knox also shared some of the contributions made by the Masons during this time period as he and Washington were members. Additionally, St. John's Lodge No. 1, Ancient York Masons – the chapter that provided the Bible used in Washington's inauguration -- presented a wreath at the base of the Washington statue to commemorate the day.
Park Ranger Michael Callahan noted that the annual commemoration is a wonderful way to draw visitors to Federal Hall and to educate people about the site's role as the nation's first capitol.