Stehekin Transportation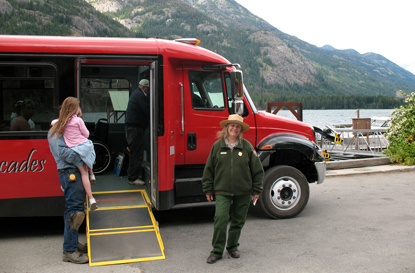 Our distinctive red shuttle buses carry you on forested roads along the Stehekin River to campsites, trailheads, or any Stehekin adventure you choose. If you're here only for the day each passenger ferry arrives in time for a narrated tour to Rainbow Falls.

Four times daily the shuttle bus leaves the Stehekin landing and travels to High Bridge, eleven miles up valley. The shuttle will pick up and drop off passengers at trailheads and campsites or anywhere else on the route. Click here for a map of the Stehekin Valley.
$7.00 adult
$4.00 children under 12
$7.00 per bicyle or dog
(all prices are for one-way travel)
BICYCLES
Bicycles are the perfect way to leisurely explore the Stehekin Valley. Bring your own or rent one from Discovery Bikes. Bicycles can be rented by the hour, day, or week and for the signature Ranch Breakfast Ride.