Cycling on the North Cascades Highway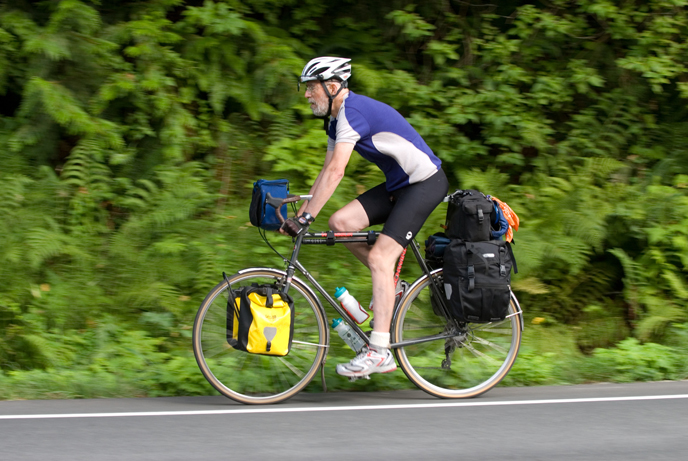 Welcome to the North Cascades Highway! Although a scenic and adventurous cycling trip, special road conditions require additional attention. This webpage provides tips for an enjoyable and safe pedal along this beautiful route. You can download a handout (pdf) of this page and additional safety information.
SAFETY CONCERNS
Rocks
Amazing geologic scenery can be beautiful as well as threatening. Make sure to watch out for rolling rocks along the way, especially along steep cliffs. Ride to the inside of rock falls if possible to keep from going into traffic.

Traffic
Because bicyclists will be sharing the road with motorized park visitors, special considerations must be made for road travel. Use caution with blind corners and hills. Although the shoulder line separates the bicyclist's path from that of the motorist, both motorists and bicyclists can cross these lines at anytime. Stay alert and make yourself visible with head and tail lights, and reflective clothing.

Tunnels
Between the towns of Newhalem and Diablo there are two tunnels. The longer of the two, closer to Newhalem, is fitted with a "BIKES IN TUNNEL" flashing safety light that can be turned on at either end. Before entering the tunnel, turn on all head and tail lights. There may be rocks inside the tunnel which have dislodged from the tunnel walls. Be prepared for safe maneuvering. Reduced road space can force cars and bikes together.

Other Bicyclists
You will also be sharing the road with other cyclists. Know the correct hand signals and areas of possible bike traffic. Think ahead and know what to do if you do meet other cyclists. Be comfortable with explaining to others what it takes to make it a safe trip.
MILEAGE GUIDE
Milepost (MP) 105.3: North Cascades National Park Wilderness Office (1 mi down Ranger Station Road): INFORMATION
MP 106: (elev. 358') Town of Marblemount: FOOD, PHONE, BIKE SUPPLIES (limited). Caution: congested area, car traffic.
MP 110-116: Caution: Small shoulder for westbound cyclists.
MP 119.5: Goodell Creek Campground: CAMPING, WATER, TOILETS
MP 119.9: North Cascades National Park Visitor Center, Newhalem Creek Campground (0.5 mi from entrance): INFORMATION, PHONE, TOILETS, WATER, CAMPING
MP 120: (elev. 515') Town of Newhalem: GENERAL STORE, TOILETS, PHONE, INFORMATION CENTER
MP 122.4: Tunnel #1: Caution: Be prepared to stop at "Bikes in Tunnel" safety light switch, and be aware of car traffic in tunnel. Remove sunglasses.
MP 123.4: Gorge Creek Falls, Gorge Overlook Trail: Caution: Grated bridge. Gorge Creek Falls Bridge can be slippery when wet.
MP 124: Tunnel #2: Caution: Be aware of car traffic in tunnel.
MP 127.5: Junction to Seattle City Light village of Diablo, camping at Gorge Lake: Highway 20 crosses over Gorge Lake. Emergency telephone at Stetattle Creek Bridge, 1 mile towards Diablo.
MP 130: (elev. 1300') Colonial Creek Campground, Thunder Creek Trail: WATER, TOILETS, CAMPING
MP 132: Diablo Lake Overlook: TOILETS, VIEWS, NO WILDLIFE FEEDING. Caution: fast moving traffic.
MP 134: Ross Dam Trailhead: TOILET
MP 134.4: Happy Creek Forest Walk (0.3 mi trail): TOILETS, SIGHTS
MP 157: (elev. 4660') Rainy Pass Rest Area: TOILETS. Facilities may be closed due to snow.
MP 162.4: (elev. 5477') Washington Pass Overlook (1 mi to overlook): TOILETS, INFORMATION, WATER, VIEWS. Facilities may be closed due to snow.
MP 169: Lone Fir Campground: CAMPING, TOILETS, WATER.
MP 177.7: Early Winter Campground: CAMPING, TOILETS
MP 179.6: Town of Mazama: FOOD, WATER, TOILETS, PHONE
MP 192.6: Town of Winthrop: INFORMATION, FOOD, WATER, TOILETS, BIKE SUPPLIES, PHONE