Ranger Programs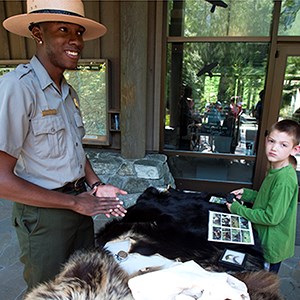 North Cascades offers interpretive programs, ranger-led walks and talks, in various locations throughout the summer. See the details for each area of the park by following the links below or checking locally at visitor centers.
Seasonal Ranger Programs by Area
Skagit District (Highway 20 and Skagit River)
Ranger Programs 2019
Visitor Center Talk - Join a ranger for a 20-minute talk to discover one of the many fascinating stories of the North Cascades.

Diablo Lake Overlook - Join a ranger at the Diablo Lake Overlook to discover the natural and cultural history embedded within the stunning mountain landscape surrounding Diablo Lake.

Newhalem Guided Walk - Join a ranger for a 45-minute walk to discover the sights, sounds and stories along the Trail of Cedars.

Junior Ranger Program - Join a ranger for interactive activities to earn a Junior Ranger badge. This program is fun for the whole family and a parent or adult must be present with children at all times.

Ladder Creek Falls by Night - Join a guided walk for a one-half mile stroll to Ladder Creek Falls and Gardens in Newhalem. Discover more about the cultural and natural history of the Newhalem area. The grand finale of the evening is the historic Ladder Creek Falls light show. Travel on stairs is required to reach the falls viewing area. For more information visit, Skagit Tours.

For dates and times visit the North Cascades Visitor Center or call 206-386-4495 x11.
Stehekin District (north end of Lake Chelan)
Red Bus Tours - Join a ranger on the "heritage style" tour buses that feature ceiling windows for optimal viewing of the spectacular North Cascades Scenery. The Red Bus will take you on a spectacularly beautiful 50-minute tour to the breathtaking 312-foot Rainbow Falls.
Bus tours leave from Stehekin Landing twice daily and are narrated by a park ranger of the lower Stehekin Valley. Tour departures coincide with the arrival of Lady of the Lake passenger ferries.

Ranger on Deck - Join a ranger on the deck at the Stehekin Landing to explore the natural and cultural history of the park.
Hozomeen (north end of Ross Lake)
Evening Programs - Join a ranger for a talk in the amphitheater to discover one of the many fascinating stories of the North Cascades. Look for International Interpretive Program topic announcements on campground bulletin boards.


Last updated: September 4, 2019