Cross-country Zones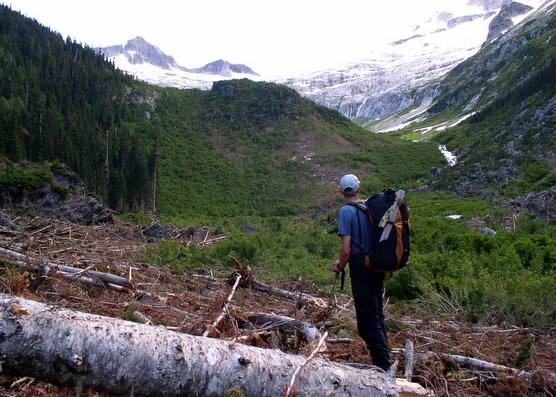 Cross-country travel in the North Cascades is a rewarding and revealing experience for those who are prepared to undertake its rigors. Routefinding is an essential skill, and travel requires greater care in order to protect the wild country you are passing through.
To protect this wild experience, please follow the following regulations: Cross-country zones begin a mile from designated camps and a half mile from trails—out of site as well. When traveling cross-country, camping is allowed only on durable surfaces such as snow, rock, or bare ground. Camping in meadows or within 100 feet of water sources is not allowed. Fires are not allowed. Human waste must be buried in a cathole or (when above treeline in snow or on glaciers) carried out in a blue bag.
If you are planning a climb, you can also visit the mountaineering page.
KEY to Cross Country Zones
Zone name – Corresponds to cross country zones as shown on the Wilderness Trip Planner Map. This map is available at visitor centers in the park.
Maximum party size – Maximum number of people that are allowed in each party. Most zones allow only 6 people per party; however, some of the most easily accessible zones allow 12. Stock parties take note: Where stock are allowed, the maximum party size includes number of people and stock combined—no more than 6 total pairs of eyes.
Maximum number of parties – Maximum number of permits issued for each zone for each night. Each party requires one permit.
Comments – Additional information about a specific cross country zone
| | | | |
| --- | --- | --- | --- |
| Zone Name | Maximum party size | Maximum number of parties | Comments |
| Arriva | 6 | 6 | |
| Bacon Peak | 6 | 3 | |
| Battalion | 6 | 2 | |
| Bear Mountain | 6 | 6 | |
| Benzarino | 6 | 3 | |
| Berdeen | 6 | 3 | |
| Blum | 6 | 2 | |
| Boston Basin | 12 | 6 | Very popular zone; composting toilets at upper and lower elevations |
| Boston Glacier | 6 | 6 | |
| Bouck | 6 | 6 | |
| Buckner | 6 | 6 | |
| Castle Rock | 6 | 2 | |
| Colonial | 6 | 6 | |
| Challenger | 6 | 6 | |
| Copper Mountain | 6 | 2 | |
| Crescent Creek | 6 | 6 | |
| Davis Peak | 6 | 3 | |
| Dee Dee Lakes | 6 | 1 | Stock parties allowed |
| Depot | 6 | 6 | |
| Despair | 6 | 3 | |
| Easy Ridge | 6 | 4 | |
| Eldorado | 12 | 6 | Popular zone; Composting toilet installed in 2009 on rock island at base of east ridge--human waste left on snow is a problem, use blue bags and carry them out if not camping near this toilet |
| Elephant Butte | 6 | 6 | |
| Elija Ridge | 6 | 2 | |
| Forbidden | 12 | 6 | |
| Goode | 6 | 6 | |
| Hidden Lake | 12 | 3 | |
| Hock | 6 | 2 | |
| Hozomeen | 6 | 3 | |
| Icy | 12 | 6 | |
| Inspiration | 12 | 6 | |
| Johnannesburg | 6 | 6 | |
| Kettling | 6 | 2 | |
| Klawatti | 6 | 6 | |
| Little Chilliwack | 6 | 6 | |
| Little Jack | 6 | 1 | |
| Logan | 6 | 6 | |
| Luna | 6 | 6 | |
| Marble Creek | 6 | 3 | |
| McGregor | 6 | 6 | |
| Middle Lakes | 6 | 3 | |
| Nooksack | 12 | 6 | |
| Perfect Pass | 6 | 1 | |
| Pioneer Ridge | 6 | 2 | |
| Price | 12 | 6 | |
| Prophet | 6 | 3 | |
| Purple | 6 | 3 | Stock parties allowed |
| Ragged Ridge | 6 | 3 | |
| Rainbow Ridge | 6 | 2 | Stock parties allowed |
| Rennie | 6 | 3 | Stock parties allowed |
| Ruby | 6 | 1 | |
| Snowfield | 6 | 6 | |
| Sourdough | 6 | 6 | |
| Spickard | 6 | 3 | |
| Starvation Ridge | 6 | 3 | |
| Stiletto | 6 | 3 | |
| Stout Lakes | 6 | 3 | |
| Sulphide Glacier | 12 | 6 | Very popular zone; composting toilets at upper and lower elevations |
| Tapto Lakes | 6 | 3 | Popular zone |
| Teebone | 6 | 3 | |
| Terror Basin | 6 | 6 | |
| Tolo | 6 | 2 | |
| Torment Basin | 12 | 6 | |
| Triad | 12 | 6 | |
| Triplet Lakes | 6 | 6 | Stock parties allowed |
| Triumph | 6 | 2 | Popular zone |
Last updated: October 17, 2022