Accessibility at the Wilderness Information Center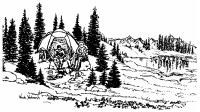 Located 1 mile (1.6 kilometers) north of SR 20 (Milepost 105.3) on Ranger Station Road. This center offers multi-media exhibits on backcountry trip planning and safety, a 3-dimensional relief map and other touchable objects, and a North Cascades Institute park store. Backcountry permits for North Cascades National Park Service Complex are issued at this center. Accessible parking and restrooms are available. Contact the Wilderness Information Center for further assistance with backcountry travel planning.

Almost 93% of North Cascades National Park Service Complex is designated as the Stephen Mather Wilderness and the rugged terrain has limited access. Topography prohibits accessible development of the 360 miles of backcountry trails and 136 designated backcountry campsites. However, some campsites and areas may be accessible with help.
Last updated: August 7, 2020