Wolf Sightings and Distibution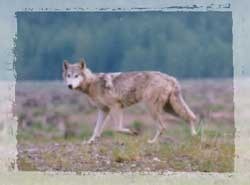 Where have wolves been seen in the North Cascades?
Since 1984, wolves have been seen roaming in the vicinity of Ross Lake (Ross Lake National Recreation Area in Washington and Skagit Valley Recreation Area in British Columbia) on both sides of the International Boundary. Wolves were photographed near Hozomeen (shown at left) at the north end of Ross Lake in 1991. Locations of other sightings in the North Cascades include McAlester Pass, Pasayten Wilderness and Twisp River drainage of the Okanogan National Forest, Glacier Peak Wilderness, and Stevens Pass.
What kinds of wolves are they?
Gray wolves (Canis lupus), sometimes called timber wolves. This species once roamed much of North America from Alaska to Mexico -- from the Atlantic to the Pacific.
How many gray wolves are there in the North Cascades?
No one knows but probably very few. No one knows whether the population is increasing, decreasing or remaining the same.
Are there gray wolves in Washington State outside the North Cascades?
Yes. Wolves have been sighted throughout the Cascade Range and in the Selkirk Mountains in the state's northeast corner.
Are gray wolves reproducing in the North Cascades?
In 1990, adults with pups were seen in the Hozomeen area. This was the first known reproduction of wild wolves in Washington State in at least 50 years! Since 1990, biologists have seen three separate groups of adult wolves with pups in the Cascades. Wolves mate in February or March. About 63 days later a litter averaging six pups is born.
What about gray wolf numbers in the rest of North America?
Gray wolves once roamed the continent from as far north as the Arctic to as far south as Mexico. Today they occupy about one percent of their former range in the contiguous United States. More than 1,000 gray wolves live in northern Minnesota. Small populations live in Wisconsin and Michigan. Ten to 15 more live in Michigan's Isle Royal National park and about 30 in or near Montana's Glacier National Park. Gray wolves are common, however, in Alaska and parts of Canada.
Last updated: August 11, 2017