Wolves
Written by North Cascades National Park Interpretive Staff
Funded by the Skagit Environmental Endowment Commission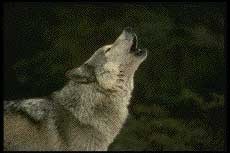 Among the rare animals living in the North Cascades Mountains is one that may surprise you - the wolf. North Cascades National Park and its neighboring public lands in Washington and British Columbia are an impressive expanse of wild country. These lands preserve the hope that animals now rare will have room to live. The wolf's presence here, though in numbers much reduced from long ago, is testimony to the wildness of these mountains.
What is it about the wolf that fires people's imaginations, repelling some and attracting others? Wolves are shy, intelligent animals with complex social structures. Can we distinguish between the reality of the wolf and the legends we have created? Can we accept this fabled predator as part of the diversity of life on earth, occupying its well-earned niche in the scheme of things? Can we enjoy its howl in the North Cascades where it can roam free?
The questions and answers here provide pertinent information about wolves and their status in the North Cascades.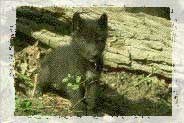 Getting Involved


If you see a wolf-like animal or its sign, observe its behavior and appearance, and report as quickly as possible by calling 1-888-WOLF-BEAR (1-888-965-3232). Protect, but do not disturb, tracks or droppings. Take pictures and make notes as soon as possible and record the location.
Learn more about wolves to distinguish between legend and reality. Read both popular accounts and scientific reports to satisfy your curiosity and make intelligent choices about the future of these animals. Express your opinion.
For More Information
Contact us
with additional questions.
"
In a world older and more complete than ours they move finished and complete, gifted with extensions of the senses we have lost or never attained, living by voices we shall never hear. They are not brethren, they are not underlings; they are other nations caught with ourselves in the net of life and time, fellow prisoners of the splendor and travail of the earth."
-- from
The Outermost House
by Henry Beston
Additional Reading


The Wolf: The Ecology and Behavior of an Endangered Species, L. David Mech, University of Minnesota Press.
The Wolves of Mount McKinley, Adolph Murie, University of Washington Press.
A Society of Wolves: National Parks and the Battle Over the Wolf, Rick McIntyre, Voyageur Press, Inc.
The Return of the Wolf, Steve Grooms, NorthWord Press, Inc.
Wolf Wars, Hank Fischer, Falcon Press.
War Against the Wolf: America's Campaign to Exterminate the Wolf, Rick McIntyre, ed., Voyageur Press, Inc.

Disclaimer: These books are listed as examples of titles available on this subject. Their listing does not indicate endorsement by the National Park Service.
Last updated: January 19, 2018