Wolf History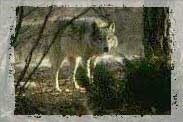 How long have wolves been in the North Cascades?
Since about 10,000 years ago when the last ice sheets retreated. Wolves migrated from the southern Great Plains into the Cascades. For thousands of years, wolves and humans lived in harmony with each other.

What caused the decline of wolves?
Extensive trapping of wolves for their pelts began with the arrival of the Hudson's Bay Company in the American Northwest in 1821. From 1827 thru 1859, buyers at the company's forts around the North Cascades purchased 7,761 wolf pelts from trappers. The wolf population was further reduced by bounties and trappers employed by the government. Wolves were thought to be eliminated in Washington by the 1930s although unconfirmed evidence of transient wolves occasionally turned up in later years.
So how did the wolves now being seen in the Cascades get here?
It is likely that many of them moved south from British Columbia.
What is the history and status of wolves in British Columbia?
As in the United States, wolves were considered undesirable and were aggressively trapped and poisoned. Canada has classified them as big game animals, and they are hunted in parts of British Columbia. Wolf control in southern British Columbia has eased over the last several decades, and according to British Columbian biologists the population of wolves in the province is on the rise. Regulations forbid hunting of wolves just north of the North Cascades National Park/Ross Lake National Recreation Area in the Canadian Skagit Valley Recreation Area and in the Manning Provincial Park. Rapid growth in human population fragmenting of habitat with possible long-term negative consequences for wolf populations.
Last updated: August 11, 2017