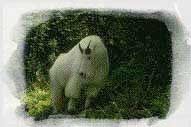 Amongst the crags and ridges of this wilderness dwell supreme mountaineers. Mountain goats are superbly adapted to the harsh conditions of the North Cascades. They traverse the steep terrain aided by their strong muscular forequarters, scrambling over rocky slopes on split, pliable hooves with soft rubbery pads with a hard outer lining. Their compact bodies with thick hollow hair and wool "subfur" hold heat and repel wind and water.
Mountain goats are not really goats at all, but are members of the antelope family.Mountain goats (Oreamnos americanus) are native to Alaska, the Cascade Mountains of Washington State, and a few other areas in the lower 48 states. Much of Washington's mountain goat habitat is on federally managed land (national parks and forests).
Mountain goats are specialized in their hoof and body shape so that they can be the most successful travelers on the cliffs where few predators will follow. To survive in such a specialized habitat. however, they are generalist herbivores who are able to eat most plants, including lichens. mosses, and conifers. They live at a variety of elevations, near different forest types, but always near cliffs.