Ferns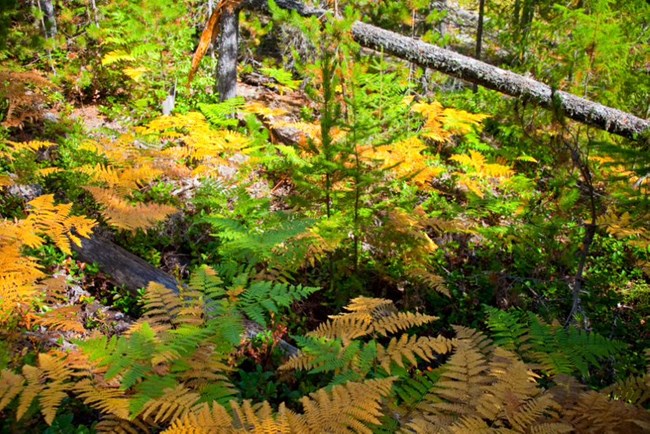 Ferns thrive in the low light and high moisture forests of the North Cascades. Sword, deer, licorice, lace, parsley, maidenhair, bracken, lady, oak and wood ferns dapple the forest floor.
These ancient plants have been living on this planet for more than 300 million years. Ferns dominated the plant world until flowering plants emerged during the age of dinosaurs. They have internal tubes for transporting water and nutrients, without which, a plant cannot grow more than a few inches tall. Ferns have two distinguishing characteristics: they reproduce by spores (visible in small clusters called sori on the underside of leaves) and their leaves unroll from base to tip as they mature (resulting in a fiddlehead appearance).
What image of the Pacific Northwest would be complete without the forest floor covered in lush, green ferns? As you walk through the woods of the North Cascades you will discover that in moist places ferns dominate the understory. Walking amongst the fronds, what you are actually viewing are the leaves of the plant, which grow out of horizontal, underground stems called rhizomes.


Last updated: October 12, 2022