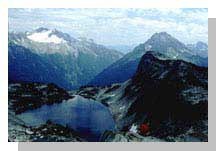 Water is the essence of the North Cascades. Small trickles and rivulets tumble from glaciers and snowfields to join together as rushing creeks. These tributary streams merge into the mighty rivers of the western slope. The east side of the range receives less rainfall and therefore has fewer glaciers, creeks and rivers.
Hundreds of small lakes, isolated jewels accessible only by arduous cross-country hiking, are scattered throughout the North Cascades. Many of these lakes are tarns, remnants of the alpine glaciers that once covered the North Cascades. Mountain lakes are rich reservoirs of life surrounded by marshes and meadows. Voracious dragonfly nymphs are common in streams and lakes, as are caddisfly and mayfly larvae. Rainbow and cutthroat trout have been introduced into many high lakes, where they feed upon abundant aquatic insects.
The larger lakes, including Ross Lake and Lake Chelan, host breeding populations of osprey and other fish- eating birds. Common mergansers, large diving ducks, are frequently seen along rivers, as are great blue herons and spotted sandpipers. Osprey fish the rivers and lakes. They dive from hundreds of feet above the water, then rise with a struggling trout clutched tightly in their talons.