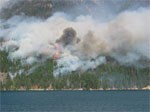 Fire Management in the North Cascades is as complex and varied as the topography and forest ecosystems because it involves responding to a variety of fuel types and conditions, coordinating with communities and other agencies, and relying on scientific data to monitor fire effects and assess long term trends in the ecosystem.
Read more about fire management in the North Cascades in the Fire Management Plan.
The National Park Service's Fire Management Office in Boise, Idaho has published some great bulletins on many fire topics. These print on demand publications are currently up on the website. They are located at https://www.nps.gov/fire/public/pub_POD.cfm.
The available high quality PDFs are:
NPS Fire and Aviation Management

Burned Area Restoration
National Park Service Fire Management Careers
National Park Service Wildland Fire Timeline
Benefits of Natural Fire

Wildland Urban Interface