Stehekin Ferry Dock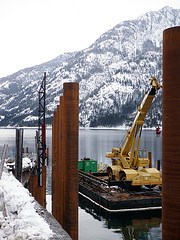 The purpose of this project is to provide universal access at the Stehekin Ferry Landing for all passengers traveling via the commercial ferry system. This will enhance passenger safety and experience by improving accessibility to and from the ferries.

The need for this project was first identified in the 1995 General Management Plan for Lake Chelan National Recreation Area and will comply with the Americans with Disability Act Accessibility Guidelines and National Park Service directives which state that park transportation systems shall be "universally designed" to provide the highest levels of accessibility for mobility impaired persons.

The National Park Service has completed an Environmental Assessment of the project and will install a universally accessible fixed walkway along the western bulkhead of the existing boat launch/winter Ferry Landing. Construction is underway and should be completed by June 2011.

For more details, download a copy of the Finding of No Significant Impact and the Environmental Assessment.

Follow construction photos on the park's
flickr page
.
Last updated: July 21, 2017