Ah the Pickets! Such an amazing landscape with a multitude of challenging mountaineering objectives. Terror Basin is probably the "easiest" place to get to in the Pickets, but be warned: this is a rugged, remote, cross country approach that has it's share of hazardous sections. It is approximately 7 miles and 
5,700 vertical feet
 to get to the standard bivy area.
The old road grade leading up Goodell Creek is in reasonably good condition, with moderate brush. Once you leave the valley bottom at an obvious cairn, the route winds steeply up the hillside. Moderate brush and a few down trees are peppered with some scrambly bits until you pop out above treeline, around 5,000'. The approach is currently snow-free, except for a patch in the scree field that you descend just above the flat bivy site. See area guidebooks or online information for detailed approach beta. Travel on the Terror Glacier (to access Inspiration for instance) looks reasonable at the moment but will probably get tricky soon. Accessing West McMillan is straightforward. 
Most of the bivy sites are melted out, and there is easily accessed running water nearby. There are no toilets here, so bring blue bags and be prepared to pack out your waste. 
Permits:
 Yes, you still need to have a permit to camp overnight in the Pickets. On several occasions this season Terror Basin has filled up! That means 6 parties registered to camp there. Please help to preserve a wilderness experience for yourself and others, and register for a permit. You can self-issue (for this area) at any North Cascades NP ranger station, or in person in Marblemount. 
Southern Pickets:
Terror Glacier closeup: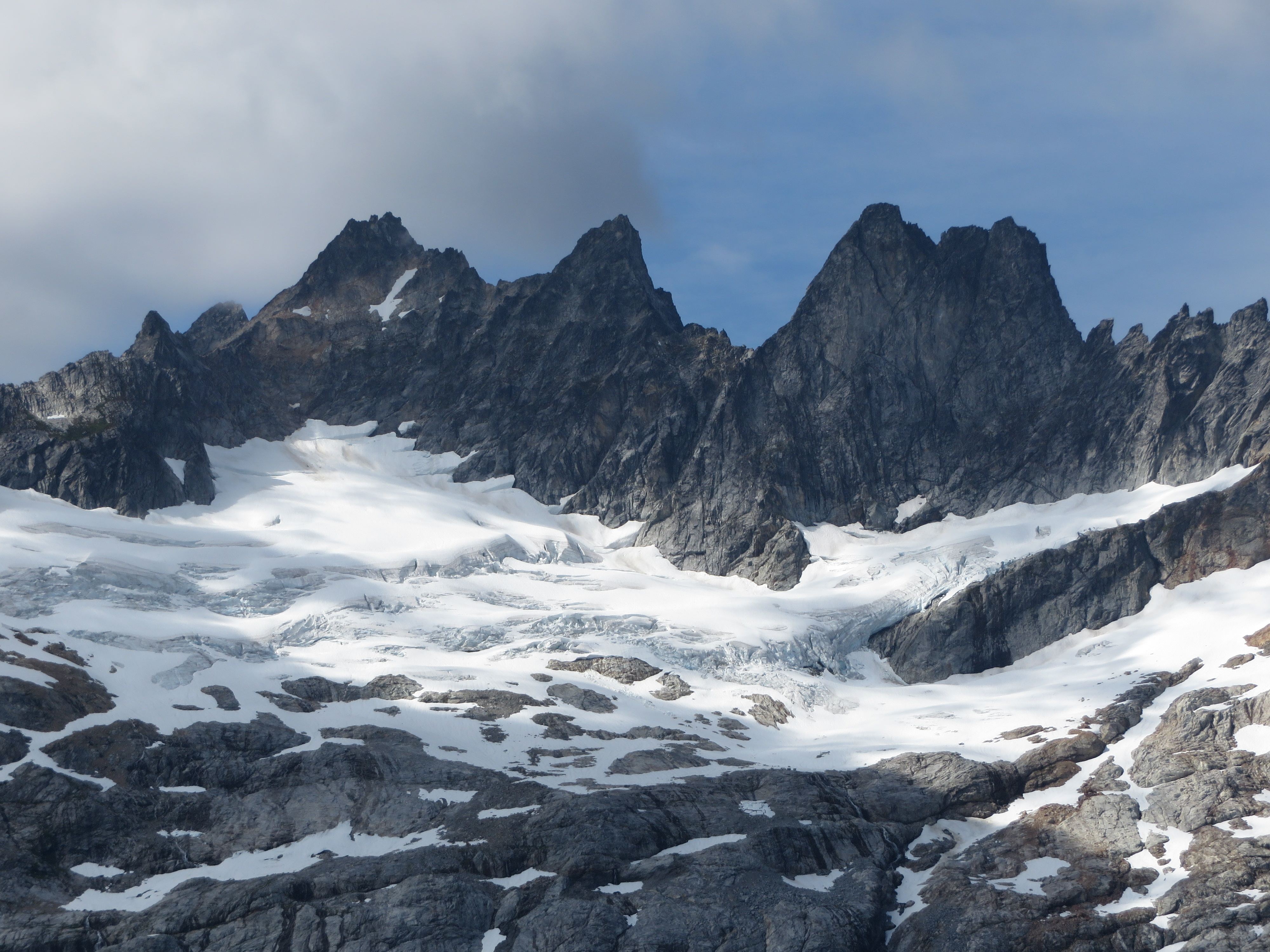 Goats: