Boston Basin/Sharksfin7/1-7/3
The lower bivy sites are completely melted out and 3 spots in the Upper Bivy Site have melted out as well. Both the lower and upper composting toilets are now open. Snow bridges across the creeks have almost completely melted.
The couloir going up to the West Ridge of Forbidden appears to have good snow coverage, but it's melting out on the sides and climbers have reported significant ice fall.
The gulley to access Sharkfin Tower is still mostly snow, but is melting out fast. The rappel stations on the climber's left of the gulley are clear of snow and accessible by traversing a 50 to 60 degree snow slope. The final short couloir up to the base of the South West Ridge route doesn't have snow in the last 15 feet. The route itself is free of snow.
The route up to Sahale via the Quien Sabe appears to have good snow coverage. The bergschrund halfway up doesn't seem to be fully open, and tracks show that it is easy to navigate around.
Photo below is of the Quien Sabe glacier/Sahale Peak.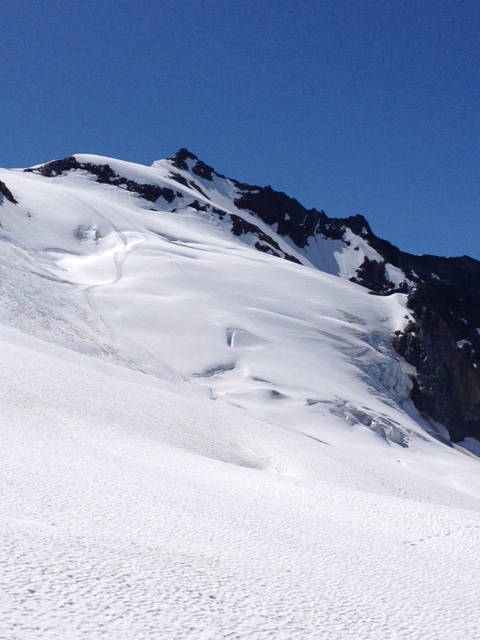 Photo below showing gully accessing SW Ridge of Sharkfin Tower.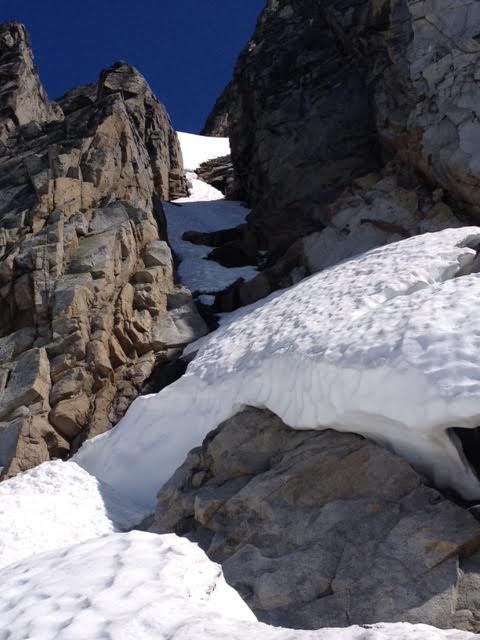 Climbing Rangers