Online Tour Stop 13 - Ninety Six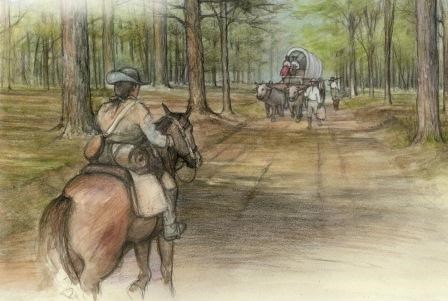 The earliest roads in Ninety Six were Indian trails, used for travel by foot and horse for hunting. White settlers followed these trails to explore the countryside, trade, and eventually settle. As the number of settlers increased, so too did the need for better roads for transporting supplies safely and easily. As a result, several routes converged at Ninety Six.
Cherokee and traders traveled the Cherokee Path leading from the coastal area to Keowee, the lower principal town of the Cherokee (near present day Clemson). North of Ninety Six was the Island Ford Road leading travelers to a shallow crossing, the Island Ford, on the Saluda River. To get to Charleston, colonists would follow the Charleston Road south of the village. To reach western South Carolina and Georgia, one might follow the Hard Labor Road or Road to Augusta). These roadbeds are still visible in the park today and serve as walking trails.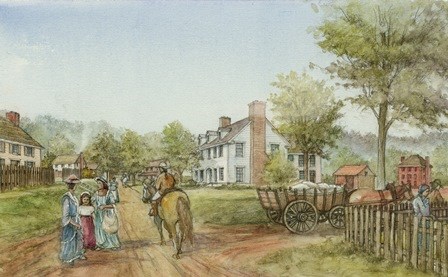 The convergence of roads at Ninety Six ensured its success as a hub of commerce, center for law and order, and haven for settlers in colonial times. In 1775 the village had 12 dwellings, a jail, an most importantly, a courthouse, making Ninety Six a seat of power in the area. Residents included blacksmiths, coopers, carpenters, field hands, and slaves. By 1776, approximately 79 males called Ninety Six home.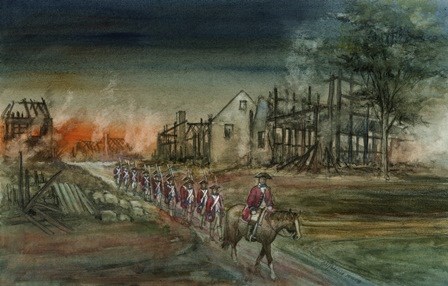 When Lt. Col. Cruger arrived in 1780, he fortified it against attack. The Loyalists were instructed to construct a bank and a high parapet around the fort palisade. Abatis was also placed around the newly fortified town.
During the siege of 1781, many Loyalist families from the backcountry, fleeing from Greene's advancing Patriot army, took refuge in the fortified town. Packed into the stockaded village, already filled with Cruger's troops and sick or wounded soldiers carried out from the Star Fort, these refugees lived in constant fear of Patriot gunfire and dwindling food and water supplies.
After the Patriot's defeat, Cruger was ordered to evacuate the town. The British command decided that Ninety Six was too far from Charleston and too deep in hostile territory to be of further service to their cause. So in July 1781, Cruger's men, with Loyalist families in tow, abandoned the village and burned it to the ground, denying Patriots further use of the site.
Last updated: April 14, 2015