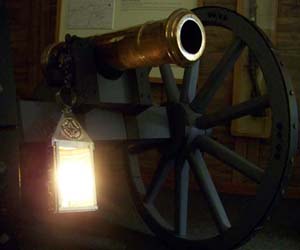 News Release Date:
September 28, 2008
Contact: Eric Williams, 864-543-4068
(Ninety Six, SC) – Ninety Six National Historic Site will present The Annual Candlelight Tour on Saturday, October 11, 2008.  Nearly 500 candle luminaries and torches will light the one mile historic trail. History will come to life as costumed volunteers portray settlers and soldiers of old Ninety Six during the Colonial and Revolutionary eras.   
Program highlights will be the sights and sounds of musket fire rising from the 227-year old Star Fort. A new feature will be a cannon firing from the Patriot siegeworks. Also, living history interpreters will be displaying their skills around the Black Swan Tavern from 1pm until 4pm. We will be remembering the soldiers who died here with blue and red luminaries for each Patriot and Loyalist life lost during the 1775 battle and 1781 siege. 
Candlelight tours will begin at 7:00 pm and leave every 10 minutes with the last tour at 8:20 pm. Each tour will last about one hour and fifteen minutes. Reservations are not necessary. Tickets will only be available the day of the event. When you arrive, get your tickets at the Information Tent located near the main parking area. If you have a Scout group or a group of 30 or more, please email or call the park (864) 543- 4068 by Wednesday, October 8 to register. Visitors should wear comfortable walking shoes and bring a flashlight. All activities are free. The VisitorCenter will be open 8:00 am to 9:00 pm the day of the event. 
Ninety Six National Historic Site is located two miles south of Ninety Six on SC Highway 248. In case of rain the program will be cancelled and not rescheduled. Contact the park for details at (864) 543-4068 or visit the park's website at www.nps.gov/nisi.                 
-NPS-