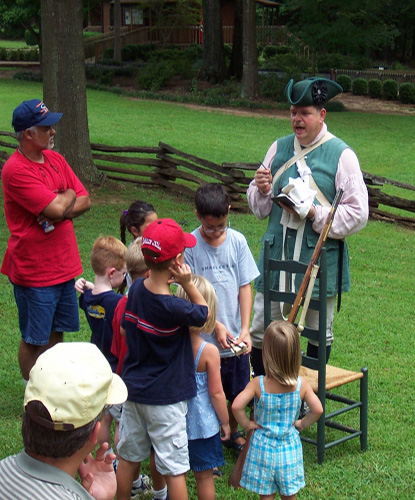 News Release Date:
May 3, 2008
Contact: Melinda M Zupon, 864-543-4068
(Ninety Six, SC) -- Ninety Six National Historic Site and Cowpens National Battlefield along with National Parks across the country celebrated Junior Ranger Day, Saturday, April 26.  The Junior Ranger program is a free educational activity booklet that contains games, puzzles and history questions that teach children the importance of preserving and appreciating history and nature.  Twenty children at Ninety Six NHS and fifty children at Cowpens NB became new Junior Rangers.  They each received a Junior Ranger badge, certificate, and special Junior Ranger Day Patch. 
During Junior Ranger Day, at Ninety Six NHS, Revolutionary War reenactors presented special historical programs including baking in the Beehive oven, musket drill, and firing demonstrations around the historic Black Swan Tavern.  At Cowpens NB, children learned candle dipping, quill writing, and made sachets at the historic Robert Scruggs House.  At both parks, families came to learn together and have fun.
If you missed the special day, you can still participate.  The Junior Ranger program is offered at both parks daily.  Ask at the Visitor Centers.  The program is designed for children ages 6-12, but the Parks welcome children of all ages to become Junior Rangers so that they may explore, learn, and protect the National Parks.     
Ninety Six National Historic Site features two Revolutionary War battlefields, the original earthen 1781 Star Fort, an authentic 1700s log cabin, museum, ten minute introductory film, Visitor Center with bookstore, small picnic area, and much more. Come spend the day discovering Ninety Six National Historic Site for yourself.  The Park is located 2 miles south of the town of Ninety Six on Highway 248.  For additional information, visit our website at www.nps.gov/NISI or call (864) 543- 4068.   
Cowpens National Battlefield protects and preserves the historic Revolutionary War Battlefield where American General Morgan defeated the British forces led by Lt Col. Tarleton.  The park is
located 3 miles east of Chesnee, SC, and 10 miles west of Gaffney, SC on SC Highway 11.  For more information, call (864) 461-2828 or visit the park's webpage at www.nps.gov/cowp/.
                            - NPS –