Date:
October 18, 2006
Contact:
Eric Williams, 864-543-4068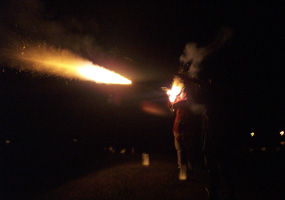 On the evening of October 14 the park hosted its 25th annual Autumn Candlelight Tour and it was a huge success.  The weather was ideal, nice and cool with starlit skies.  The attendance total including visitors, staff and volunteers was 850.   Everyone enjoyed this chance to "step back in time" over 200 years.  Visitors were guided along the one-mile trail illuminated by candlelight and torches.  At eight stops costumed volunteers told stories of colonial and revolutionary Ninety Six.
Park volunteers assisted the park staff in every aspect of the program.  They participated as tour guides, living history interpretation, information desk, parking, setting up torches and candles, luminary lighters, photographer, ticket distributors, tour organizer, music, and cleanup.  Members of Volunteers96, the park friend's group offered their continued support, interest and hard work.  Community interest and support was high with additional volunteers from the Lower Lake Greenwood Fire Department and a number local Boy Scout Troops who were participating in a weekend camporee at the park.  Also assisting was staff from Cowpens National Battlefield.
The collective efforts of park staff and 80 volunteers ensured the success of this popular annual program.