Date:
November 19, 2008
Contact:
Melinda M Zupon
, 864-543-4068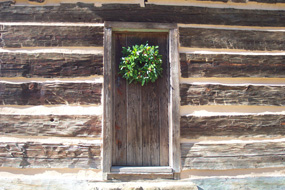 (Ninety Six, SC) – Step back into history with your family this holiday season at Ninety Six National Historic Site's "A Backcountry Holiday" on Saturday, November 29, from 1:00 pm until 4:00 pm. The past will come to life as you walk into the historic late 18th century Cabin, where costumed interpreters will be demonstrating life in the South Carolina backcountry in the 1700s.
Take a break from the usual holiday activities and enjoy the program's activities. Light refreshments in the park's historic cabin (circa 1787 log house), which is only open to the public during special events. Relax by the fire and listen to colonial holiday music played on the hammer dulcimer by professional musician Jim McGaw. Stop by the park's visitor center for unique gifts. Learn about the park's extensive history during a leisurely tour of the park's historic trail. Children will be invited to help decorate the cabin and make cookie ornaments to take home.      
The event is free and visitors are invited to spend an hour or spend the day. Activities are subject to change. Ninety Six National Historic Site is part of the National Park Service and one of only six national park areas within the state. The park is open daily 8:00 am to 5:00 pm (closed only New Years' Day, Thanksgiving Day, and Christmas Day). The park is located two miles south of Ninety Six on SC Highway 248. Contact the park for details at (864) 543-4068 or visit the park's website at www.nps.gov/nisi.                 
--END--