Superintendent of New Southern Campaign of the American Revolution Parks Group Named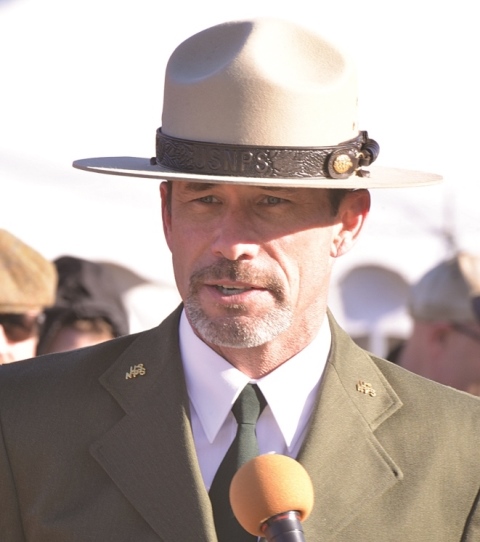 News Release Date:
August 8, 2014
Contact: Bill Reynolds, 404-507-5612
Contact: John Slaughter, 864-461-2828
ATLANTA –Southeast Regional Director Stan Austin announced today the selection of John Slaughter as superintendent of the recently created park group that includes Cowpens National Battlefield, Kings Mountain National Military Park, Ninety Six National Historic Site, and Overmountain Victory National Historic Trail. Slaughter has been superintendent of Cowpens National Battlefield and Ninety Six National Historic Site in South Carolina since June 2011. He will officially begin his new role on August 24.
"We are very pleased to have John taking on this new responsibility," Austin said. "He has done an excellent job at Cowpens and Ninety Six for the last three years. We are confident he will be a great leader for these four park units and look forward to him working with all the employees and partners to continue their efforts.  I also know he will be a tremendous asset working with all the park communities that are so important to preserving and telling the story of these amazing resources. The consolidation of these four NPS units was done to help ensure financial sustainability, provide more efficient use of resources, and better serve the visiting public," Austin said. "The units share historic backgrounds, missions, and geographic proximity and this provides an opportunity to share employees who perform identical or similar functions at each of the parks."
Slaughter has 16 years of federal experience, including 13 years with the National Park Service (NPS). His NPS career began when he was selected as the first Facility Manager at Manzanar National Historic Site where he transferred from the Department of Defense.Prior to his federal service, Slaughter served as a chief engineer in the private sector after graduating from San Joaquin Valley College in Fresno, Calif.
"It is an honor to be selected to serve on this team of outstanding employees, volunteers and passionate partners," Slaughter said. "These four National Park sites play a significant role in preserving and making relevant the history of a fledgling nation, especially that of American Revolutionary War battles in the Southern states. I am excited to have been given this opportunity to leverage the extraordinary commitment and talents of the local communities to reap the long lasting educational and economic benefits associated with heritage tourism."
Prior to his selection as superintendent of Cowpens National Battlefield and Ninety Six National Historic Site in 2011, Slaughter served as chief of facilities operations/project management at Joshua Tree National Park at Twentynine Palms, CA. During his time at Joshua Tree National Park, Slaughter participated in the U.S. Department of Agriculture Graduate School Executive Potential Program.
Slaughter has also served in a number of temporary assignments as acting superintendent at Cumberland Gap National Historical Park, Herbert Hoover National Historic Site, as well as a budget analyst in the NPS Washington Office's Budget Formulation Office. He is currently a member of the Southeast Region Cultural Resource Advisory Committee. His commitment to promoting heritage tourism throughout the region is evident in his participation in the Southeast Tourism Society Tourism Marketing College, Tourism Marketing Professional certification program.
Slaughter and his wife, Shannon, reside in Spartanburg County, S.C., where she teaches 1st grade at St. Paul the Apostle Catholic School. They, along with their three daughters, Sara, Lilly and Julia, are excited to continue exploring their "patriot heritage" and all that the region has to offer residents and travelers. John is a member of the Downtown Spartanburg Rotary Club and a dedicated softball coach for the Inman Youth Sports Association where he was named softball coach of the year this past season.
Kings Mountain National Military Park, Cowpens National Battlefield and Ninety Six National Historic Site are located in South Carolina.Overmountain Victory National Historic Trail spans parts of Tennessee, Virginia, North Carolina and South Carolina.As part of the National Trails Program, it is a partnership entity and does not own land.
"This group of NPS sites is destined to have a positive impact in so many areas including building an outstanding team of advocates for this important role in American history. A foundational part of that will be working with employees and stakeholders to "brand this group with an official name." Slaughter said.
-NPS-
THE NATIONAL PARK SERVICE IS COMPOSED OF MORE THAN 20,000 RANGERS, BIOLOGISTS, HISTORIANS, GEOLOGISTS AND OTHER DEDICATED EMPLOYEES WHO CARE FOR AMERICA'S 401 NATIONAL PARKS AND OTHER SPECIAL PLACES SO THAT EVERYONE TODAY AND IN THE FUTURE CAN EXPERIENCE AMERICA'S HISTORY AND BEAUTY.
EXPERIENCE YOUR AMERICA TM
The National Park Service cares for special places saved by the American people so that all may experience our heritage.
Last updated: April 14, 2015