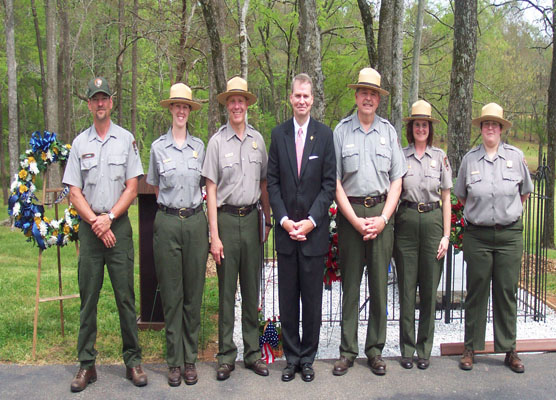 News Release Date:
April 18, 2007
Contact: Eric Williams, 864-543-4068
On the weekend of April 14-15 Ninety Six NHS hosted "Revolutionary War Days" to commemorate the site's importance in the American Revolution.  It was here that the first battle south of New England was fought in 1775.  It served as a crucial British outpost and was also the scene of a 28-day siege by General Nathaniel Greene's forces in 1781.
Visitors from throughout the region enjoyed a variety of activities at the park over the weekend.  About 90 reenactors were encamped at the site portraying British and American soldiers.  Music of the 1700's, musket and cannon firings, ranger led walks and other programs gave the scene excitement.  A featured program included a wreath-laying ceremony led by the Sons, Daughters and Children of the American Revolution and park rangers.  This event, along with a keynote address by South Carolina Congressman Gresham Barrett added a poignant and somber moment to the special celebration.  During the ceremony park superintendent Tim Stone formally acknowledged the recent addition of a 32-acre land tract known to contain historical resources from the 1700's.   About 2,500 visitors attended the event, including many extended families with children. 
National Park Service staff from Cowpens National Battlefield assisted with the weekend's activities.  In addition, park volunteers helped with parking, first-aid station and visitor services.