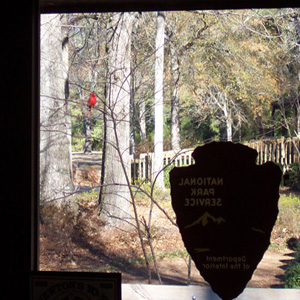 News Release Date:
February 4, 2009
Contact: Melinda M Zupon, 864-543-4068
(Ninety Six, SC)  Have you ever seen a ring billed duck, a pied billed grebe, or a ruddy duck? Many people know the history that waits for them at Ninety Six National Historic Site but some don't know about the wildlife within the park. 
On February 14, the park will host two bird walks in association with Great Backyard Bird Count. It is a chance to spend time outdoors and learn about birds in your area. The Great Backyard Bird Count is open to bird watchers of all ages from expert to beginner. Participation is free and no registration is required. Visitors count birds for at least 15 minutes then report their findings at www.birdcount.org. Checklists and information will be provided. A local bird expert, Rusty Wilson, and Park Ranger, Melinda M Zupon, will be presenting the walks.  
The first walk will begin at the VisitorCenter at 8:00am. After a short introduction, visitors will walk to the Star Fort Pond area counting birds along the way. The easy walk will only be approximately 1 mile. Another more strenuous walk will start at the Star Fort Pond (located along Kinard Road) at 10:00am and be approximately 2 ½ miles. Visitors should dress accordingly, wear comfortable walking shoes, and bring cameras and binoculars.           
Depending on the time of year, the Park hosts Canadian Geese, Mallard Ducks, and Great Blue Herons and much more.  Any time of the year is perfect for bird watching and enjoying nature at the Park.        
Come spend the day discovering Ninety Six National Historic Site for yourself. Ninety Six NHS is located two miles south of Ninety Six on SC Highway 248. Contact the park for details at (864) 543-4068 or visit the park's website at www.nps.gov/nisi
In case of rain or bad weather, the event will be cancelled & not rescheduled. 
--END--