Date:
March 22, 2008
Contact:
Eric Williams
, 864-543-4068
Contact:
Melinda M Zupon
, 864-543-4068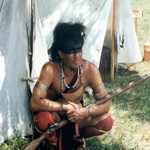 Ninety Six, South Carolina – Surround yourself with over 300 years of history at Ninety Six National Historic Site's Lifeways of the Cherokee Indians and Colonial Settlers.  Experience Colonial life through an authentic encampment.  Learn about Cherokee Indians as Rob Rambo portrays Little Carpenter, the Cherokee Peace Chief.  "Meet" Robert Gouedy, the first Indian Trader of Ninety Six, as portrayed by Durham Hunt.  Discover the history of the Scotch Irish in the area during a presentation by Dr. William Brockington of USCA.  Listen to Colonial music echo throughout the camps.  Laugh and learn as Faire Wynds performs an 18th century traveling show. Visit with reenactors portraying British soldiers, Militia, Indian Traders, and Colonial families.  Learn about Colonial women and daily home life with a presentation by Common Knowledge.  Enjoy special Park Ranger led tours.  Listen to tales of African Slaves by Kitty Wilson-Evans.  Have fun with special kids' activities, crafts, and games.  Hear the muskets echo across the battlefields. 
The free event will be held Saturday, April 5 and Sunday, April 6.  The park is open every day from 8am to 5pm, with events held from 9am until 5pm on Saturday, and 10am to 3pm on Sunday.  This event is held every other year. 
The Park features two Revolutionary War battlefields, the original earthen 1781 Star Fort, an authentic 1700s log cabin, museum, ten minute introductory film, VisitorCenter with bookstore, small picnic area, and much more.  Come spend the day discovering Ninety Six National Historic Site for yourself.  The Park is located 2 miles south of the town of Ninety Six on Highway 248.         
For additional information, visit our website at www.nps.gov/NISI or call (864) 543- 4068.  In case of inclement weather, some activities may be cancelled or rescheduled.
-NPS-