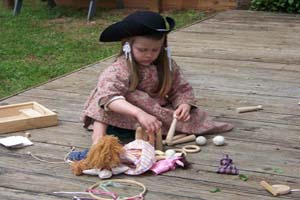 News Release Date:
April 7, 2009
Contact: Melinda M Zupon, 864-543-4068
(Ninety Six, SC)  Over 2,000 visitors heard the cannon boom and muskets echo across the battlefields during Revolutionary War Days at Ninety Six National Historic Site.  The National Park site held the freeevent on Saturday, April 4 and Sunday, April 5, which turned out to be beautiful sunny days.  Over 190 reenactors helped visitors experience life during Colonial times. 
Visitors listened to Colonial period music, visited with historicreenactors portrayingGeneral Andrew Pickens, General Nathanael Greene, Patriot and Loyalist soldiers, and Colonial families.  They enjoyed cavalry demonstrations, battlefield walks, and musket talks.  Children especially enjoyed the event and came in records numbers.  Over fifty kids completed the special activity booklets and sixty finished the Junior Ranger program.  Young and old alike played Colonial games behind the historic 1787 log cabin.  On Saturday, a special wreath laying ceremony was held commemorating the lives lost during the two Revolutionary War battles at Ninety Six. Also during the event, Great Divide pictures were filming scenes for the Park's new interpretive film set to début Spring 2010.    
Nine park staff, one Ranger from Cowpens National Battlefield, one Student Conservation Association intern from Cowpens National Battlefield, one Law Enforcement Ranger from KingsMountainNationalMilitaryPark, and nine volunteers presented Revolutionary War Days.  Park visitors traveled from South Carolina, Georgia, North Carolina, Tennessee and as far away as Indiana.
The Park features two Revolutionary War battlefields, the original 1781 Star Fort, an authentic 1787 logcabin, a museum and VisitorCenter with bookstore, small picnic area, several miles of trails and much more.  Comespend the day discovering Ninety Six National Historic Site for yourself.  The Park is located 15 minutes from Greenwood and 2 miles south of the town of Ninety Six on Highway 248.  For other park events and programs visit the park's website at www.nps.gov/NISI or call (864) 543- 4068.  Additional digital photos of the events are available upon request.
-- END --