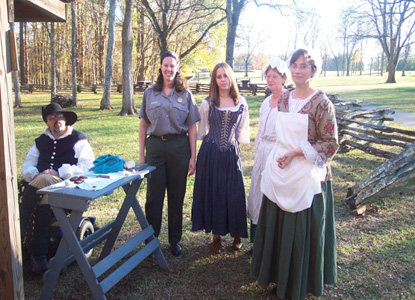 News Release Date:
November 28, 2006
Contact: Melinda M Zupon, 864-543-4068
Over 250 people started a new holiday tradition by stepping back into history. 
Ninety Six National Historic Site hosted "A Backcountry Holiday" on Saturday, November 25, 2006. The past came to life as visitors walked into the historic late 18th century Black Swan Tavern, where costumed interpreters greeted them. 
Throughout the sunny day, visitors heard the boom of muskets, enjoyed the glow of the fireplace, and learned how colonial settlers celebrated the holiday season. The smell of baking bread drifted through from the traditional beehive oven as families made colonial pomanders for decoration. Between tasting cookies and hot apple cider, many children helped decorate the Black Swan Tavern. Families were even able to learn about colonial guns and Cherokee Indians on the front porch of the Tavern.   
Twenty park volunteers, living history interpreters, and park staff helped present the event. The   historic Black Swan Tavern is only open to the public during special events. All events at Ninety Six National Historic Site are free and visitors are invited to spend an hour or spend the day. Ninety Six National Historic Site is part of the National Park Service and is open daily 8:00 am to 5:00 pm (closed only New Years' Day, Thanksgiving Day, and Christmas Day). The Park is located two miles south of Ninety Six on SC Highway 248.  Contact the park for details at (864) 543-4068 or visit the park's website at www.nps.gov/nisi for upcoming events and pictures of past events.             
--END--