Experience of living history saturdays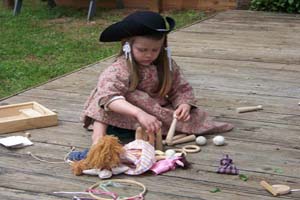 News Release Date:
May 6, 2009
Contact: Melinda M Zupon, 864-543-4068
(Ninety Six, SC)  Have you ever heard a musket boom and spit smoke and fire, or seen ladies spin yarn or bake in a Beehive Oven?  Come and visit Ninety Six National Historic Site Saturday, May 16 to experience what life was like during Colonial times.
Living historians will be displaying their Colonial and Revolutionary War skills around the park's historic 1787 log cabin from 10:00 am until 2:00 pm.  Come and take part in children's activities and games.  Special talks and tours will be available.  Check in at the Park's VisitorCenter for details.  All activities are free.         
Living History Saturdays are held the third Saturday of each month, May through August at the National Park.  Visitors are encouraged to come to each program because different living history skills and demonstrations are displayed. 
The Park features two Revolutionary War battlefields, the original 1781 Star Fort, an authentic cabin, museum, ten minute interpretive film, VisitorCenter with bookstore, small picnic area, and around 10 miles of hiking trails, and much more.  Come spend the day discovering Ninety Six National Historic Site for yourself.  The Park is located 2 miles south of the town of Ninety Six on Highway 248.        
For additional information, visit our website at www.nps.gov/NISI or call (864) 543- 4068.  In case of inclement weather, some activities may be cancelled. 
- NPS -
Last updated: April 14, 2015