Date:
March 21, 2010
Contact:
Melinda M Zupon
, 864-543-4068
Contact:
Tim Cruze
, 864-543-4068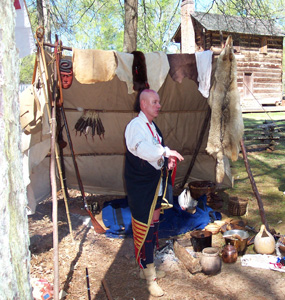 Ninety Six, South Carolina – Surround yourself with over 300 years of History at Ninety Six National Historic Site's Lifeways of the Cherokee Indians and Colonial Settlers.  This free event will be held Saturday, April 10 from 10:00am until 5:00pm, and Sunday, April 11 from 10:00am to 3:00pm.  This event is held every other year. 
Experience Colonial life through an authentic encampment of Militia and Colonial families.  Learn about Cherokee Indians as the Oconaluftee Indian Village Touring Group demonstrates traditional crafts and dances.  Meet Robert Gouedy, the first Trader of Ninety Six, as portrayed by Durham Hunt.  Listen to Colonial music echo through the camps.  Enjoy special Park Ranger led tours.  Listen to tales of African Slaves by Kitty Wilson-Evans.  Have fun with special kids' games.  Hear muskets echo across the battlefields. 
Come see the Park's new film narrated by country singer Trace Adkins.  View the Park's new interpretive trail signs along the historic 1 mile trail. 
Kids!  Come join The Star Fort Militia and earn bravery medal.  This program for 6 to 10 years old will teach militia drills used during the Revolutionary War.  Please call the park to sign up.  The program will only be held at certain times.  Each session is limited to 10 kids at a time.  Come be a part of History!  
The Park features two Revolutionary War battlefields, the original earthen 1781 Star Fort, an authentic 1700s log cabin, museum, new interpretive film, bookstore, and much more.  Come spend the day discovering Ninety Six National Historic Site for yourself.  The Park is located 2 miles south of the town of Ninety Six on Highway 248.         
For additional information, visit the website at www.nps.gov/NISI or call (864) 543- 4068.  In case of inclement weather, some activities may be cancelled or rescheduled.
-NPS-