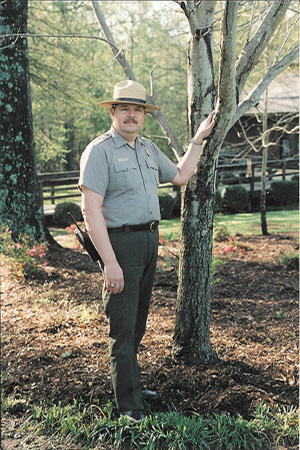 News Release Date:
December 23, 2008
Contact: Melinda M Zupon, 864-543-4068
(Ninety Six, SC) – National Park Service Chief Ranger/ Historian Eric Williams will retire January 3, 2009 from the Ninety Six National Historic Site.  Since his arrival in 1981 he has witnessed many positive changes including the addition of park buildings, trails, acreage and the volunteer program.   
Eric has experienced several career highlights at Ninety Six NHS. One of his most satisfying achievements has been the establishment of several living history special programs such as the popular Autumn Candlelight Tour in October. As he nears retirement Eric reflects, "The park staff has many duties, but the bottom line is that we're here every day for our visitors, to help them understand the importance and significance of Ninety Six in America's history. Our special events and programs allow visitors to catch a glimpse of what life was like here in the 1700's. We have a dedicated group of volunteers whose talents make our special programs possible." He also has assisted with producing two park films, two trail wayside exhibit projects and writing numerous park management documents.
Originally from Asheville, North Carolina, Eric began his National Park Service career at Carl Sandburg Home National Historic Site in 1976 as a seasonal park ranger then moved on to Cowpens National Battlefield for another seasonal position. His first permanent position with the NPS was at Carl Sandburg Home as a resource management ranger in 1979. In September 1981, Eric transferred to Ninety Six NHS eventually moving up to his current position as Chief Park Ranger/Historian. His many duties have included historical research and writing, seeking grants for special park projects and exploring ways to preserve the park's Revolutionary War era Star Fort, reconstructed Stockade Fort, 250-year old road traces and numerous archeological resources. He especially enjoyed serving as a National Park Service Historic Weapons Safety Officer. This required special training and knowledge to supervise firing muskets and cannons at historic programs and offered travel opportunities to other parks.  From 1975, Eric has been an 18th century reenactor portraying the French & Indian War and Revolutionary War eras. At times carrying his own musket, he usually portrays an apothecary using his intensive research on medicine and medical practices of the 1700's. 
He is a life member of the Sons of the American Revolution. In 2007, Eric received the Daughters of the American Revolution's Bobby Gilmer Moss History Award (for research and preservation of South Carolina history) for co-authoring his book, Old Ninety Six: A History & Guide.
Eric relates, "It has truly been a privilege to spend my career with the National Park Service, the nation's most respected government agency.  Most of my time has been at Ninety Six where I have had many challenges and opportunities which I will always be grateful for. I will miss the dedicated park staff, volunteers and my many NPS friends. I encourage all of them to continue serving our visitors with pride in the truest NPS tradition." He especially thanks the Ninety Six community for its encouragement and support of him and the park over the years.
Eric plans on staying in Greenwood, SC and spending more time with his wife Jan and daughter Rebecca, who attends Winthrop University. He and Jan have a list of home projects to do. They also plan to do some traveling to visit family and friends and to visit several National Park Service areas. Eric's time will also be occupied with church activities and several hobbies including restoring antique cars, Revolutionary War reenacting and cooking. He also plans to volunteer with the "Honor Air" program and to continue historical research and writing. 
There will be a drop-in at Ninety Six National Historic Site on December 30 from 2 - 4 pm to honor Eric. The public is invited to attend. 
--END--