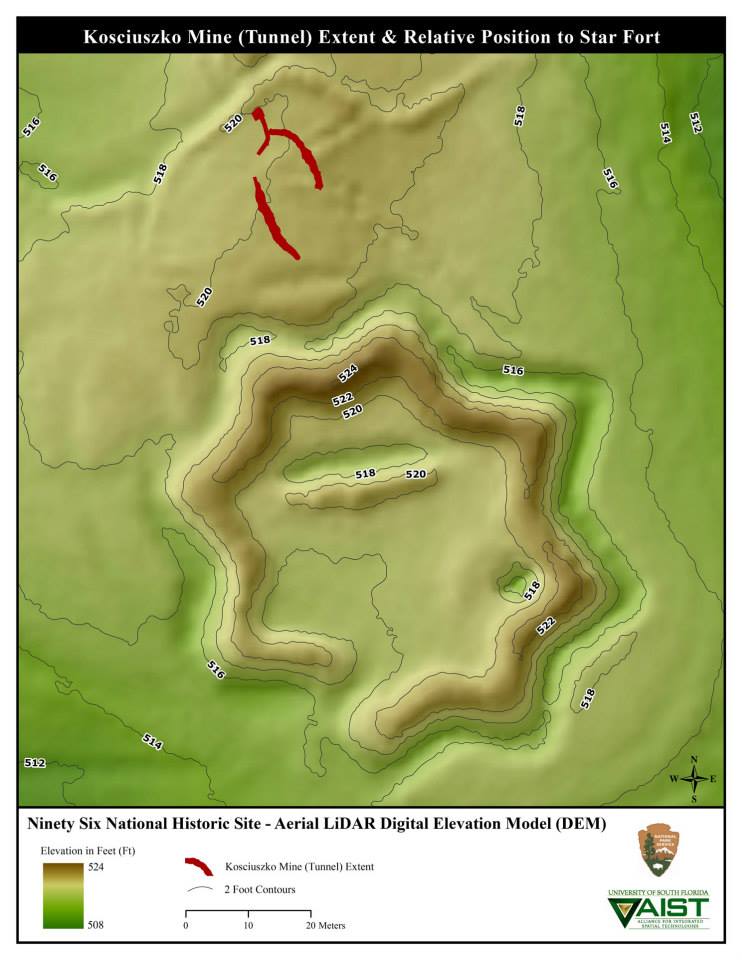 News Release Date:
May 13, 2015
Contact: Garrett Jackson, 864-461-2828
Contact: Sarah Cunningham, 864-543-4068
(Ninety Six, SC) Ninety Six National Historic Site invites the public to Archeology Day: The Kosciuszko Mine in 3D on Saturday, May 30.From 10 am to 1 pm, youth can participate in a mock dig to experience one small aspect of an archeologist's work.At 1 pm, attend a talk given by Drs. Lori Collins and Travis Doering from the Alliance for Integrated Spatial Technology (AIST), University of South Florida on the mapping of the Kosciuszko mine in 3D.The first public viewing of the documentary, produced by South Carolina Educational TV (SC-ETV), will begin at 2 pm.There will be an opportunity to talk with the park rangers, the archeologists, and the ETV producers.
In a unique partnership between the National Park Service, archeologists, researchers, Greenwood Fire Department, and public television, field work was carried out to document the Kosciuszko Mine, the only existing military tunnel from the American Revolution, during the spring of 2014.In the year since, the information collected has been processed, interpreted, and turned into 3D models.The footage captured by the archeologists and SC-ETV was used to prepare a 30 minute documentary on not only the brief history of the siege, but also the physical mapping of the tunnel.SC-ETV will air the documentary on "Carolina Stories" series in the coming months!
Southern Campaign of the American Revolution Parks Group Superintendent, John Slaughter, hopes that the public will come out to see the results of the project started over a year ago. He says, "This is an amazing opportunity at Ninety Six National Historic Site to live and learn by discovering through archeology and technology, the national significance associated with places and events in South Carolina.These vital contributions were made towards the victory during the Southern Campaign of the American Revolution."
National Park Service personnel will also be on-hand to discuss with the media the National Park Service's Centennial Initiative "Find Your Park".2016 is the 100th anniversary of the National Park Service.The National Park Service and National Park Foundation are working closely with partners and stakeholders across the country to ensure that the Centennial is more than a birthday. We want people everywhere to embrace the opportunities to explore, learn, be inspired or simply have fun in their 407 national parks, as well as understand how the National Park Service's community-based recreation, conservation, and historic preservation programs positively impact their own communities.
Ninety Six National Historic Site is a unit of the Southern Campaign of the American Revolution Parks Group within the National Park Service.The group mission is to protect, preserve, and interpret the significance of the decisive battles where American earned its freedom.