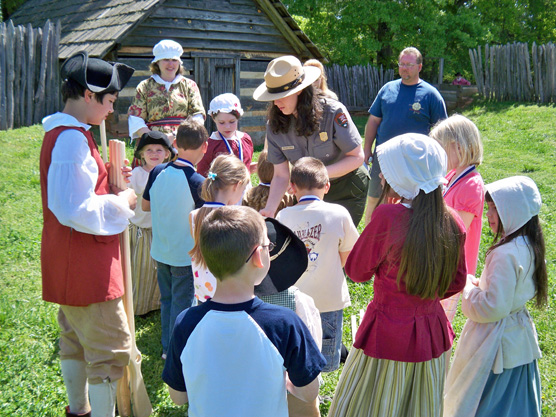 News Release Date:
April 12, 2010
Contact: Melinda M Zupon, 864 543-4068
(Ninety Six, SC)  About five hundred visitors witnessed scenes at Ninety Six that have not been seen in a long time:  Cherokee dancing and making baskets, children playing colonial games, and muskets firing across the battlefield.  These events took place during Lifeways of the Cherokee Indians and Colonial Settlers at Ninety Six National Historic Site.  The National Park held the freeevent on Saturday, April 10 and Sunday, April 11, which turned out to be beautiful, sunny days.  Over 70 reenactors helped visitors experience life during Colonial times. 
Visitors listened to Colonial period music, talked with historicreenactors portraying trader Robert Gouedy and Colonial families, and enjoyed battlefield walks.  They were also treated to a walking tour of the Cherokee Path, which visitors rarely get to enjoy.  The swivel gun was fired from the Stockade Fort and muskets fired on the 1775 battlefield as visitors learned about the history of Ninety Six before the American Revolution. 
Children especially enjoyed the event and came in records numbers.  Young and old alike played Colonial games behind the historic 1787 log cabin.  Over fifty children joined the ranks of the Star Fort Militia and were rewarded with a new bravery medal. 
The Park features two Revolutionary War battlefields, the original 1781 Star Fort, an authentic 1787 logcabin, a museum and VisitorCenter with bookstore, small picnic area, several miles of trails and much more.  Comespend the day discovering Ninety Six National Historic Site for yourself.  The Park is located 15 minutes from Greenwood and 2 miles south of the town of Ninety Six on Highway 248.  For other park events and programs visit the park's website at www.nps.gov/NISI or call (864) 543- 4068. 
-- END --