a backcountry holiday 2007
Date:
November 11, 2007
Contact:
Melinda M Zupon
, 864-543-4068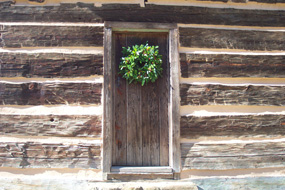 Kick off the Holiday Season by Stepping Back into the Past
(Ninety Six, SC) – Start a new holiday tradition with your family by stepping back into history. 
Ninety Six National Historic Site will host "A Backcountry Holiday" on Saturday, November 24, 2007 from 1:00 pm until 4:00 pm.  The past will come to life as you walk into the historic late 18th century Black Swan Tavern, where costumed interpreters will be demonstrating Backcountry life in the 1700s.
Take a break from turkey and shopping malls to enjoy light refreshments in the park's historic Black Swan Tavern, which is only open to the public during special events.  Relax by the fire and listen to Colonial holiday music played on the hammer dulcimer.  Visit the Park's VisitorCenter for unique gifts.  Enjoy the museum, where the clothing display has been updated and new artifacts are available for viewing.  Learn about the Park's extensive history during a leisurely tour of the park's historic trail.  Hear musket fire echo through the park.  Children will be invited to help decorate the cabin and make colonial sachets for decoration or gifts.       
The event is free and visitors are invited to spend an hour or spend the day.  Activities are subject to change.  Ninety Six National Historic Site is part of the National Park Service and one of only seven National Park units within the state.  The Park is open daily 8:00 am to 5:00 pm (closed only New Years' Day, Thanksgiving Day, and Christmas Day).  The Park is located two miles south of Ninety Six on SC Highway 248.  Contact the park for details at (864) 543-4068 or visit the park's website at www.nps.gov/nisi.                 
--END--
Last updated: April 14, 2015