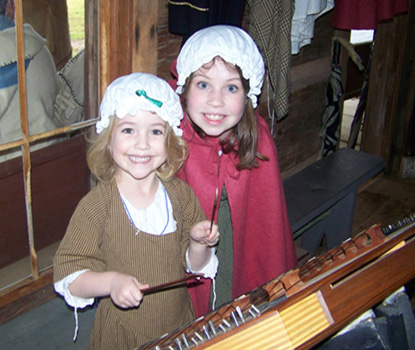 News Release Date:
December 3, 2008
Contact: Melinda M Zupon, 864-543-4068
(Ninety Six, SC) – Over 100 people braved rain to visit Ninety Six National Historic Site for "A Backcountry Holiday" on Saturday, November 28. The past came to life as visitors walked into the historic late 18th century cabin, where costumed interpreters greeted them. 
Visitors enjoyed the warmth of the fireplace and listened to Colonial holiday music played on the hammer dulcimer by Jim McGaw, while learning how colonial settlers celebrated the holiday season. Many even joined in and were able to play the dulcimer themselves after a few quick lessons. Kids of all ages made pomanders and decorated homemade cookie ornaments. Between tasting cookies and hot apple cider, visitors learned about Cherokee Indians on the cabin's porch, colonial money, colonial history, and historic weapons. Families were able to learn about Revolutionary soldiers during musket firing demonstrations. 
Two Park staff, one park volunteer, and eleven living history interpreters presented the event. Visitors came from all over South Carolina, Georgia, and Ohio. 
All events at Ninety Six National Historic Site are free and visitors are invited to spend an hour or spend the day. The Park is part of the National Park Service and is open daily 8:00 am to 5:00 pm (closed only New Years' Day, Thanksgiving Day, and Christmas Day), and is located two miles south of Ninety Six on SC Highway 248.  Contact the park for details at (864) 543-4068 or visit the park's website at www.nps.gov/nisi for upcoming events and pictures of past events.             
--END--