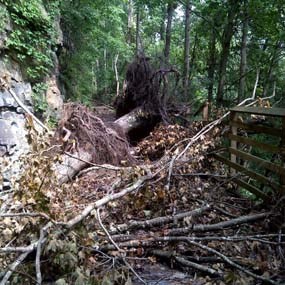 Power has been restored to all visitor centers.
Sandstone, Canyon Rim, Thurmond,and Grandview Visitor Centers are all currently open. Power has also been restored to the headquarters office in Glen Jean. Phone lines are once again operational.
Park crews continue to work clearing trees on roads, campgrounds, and trails. Most areas in the park are clear and open, though be aware that you may come across a downed tree on any trail, as much of the areas that were clear have more downed trees from the thunderstorms in the past few days. Park crews are re-assessing areas to make sure they are clear of hazardous trees.
The Rend Trail has been repaired and is now open. Turkey Spur Overlook, at Grandview, remains closed.
Please use extra caution on park trails as there are many trees that may have been uprooted or that may have broken branches that could still fall.