Wildflower Weekend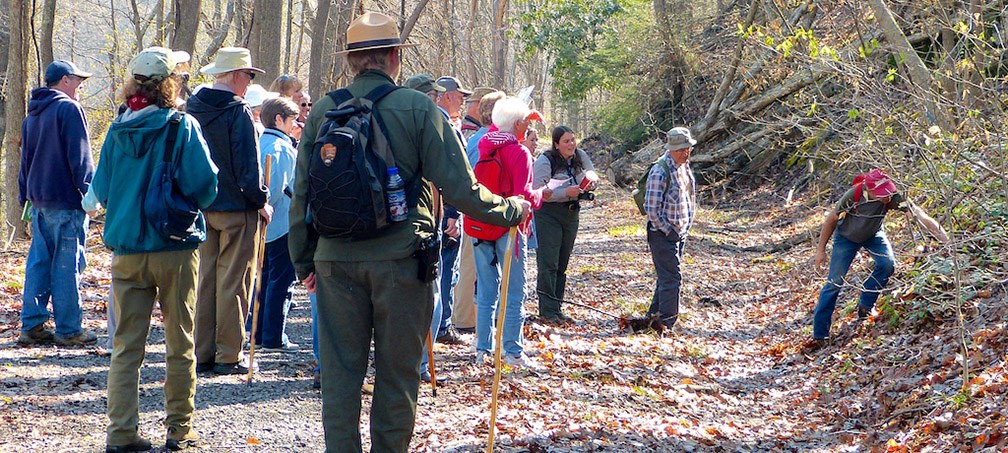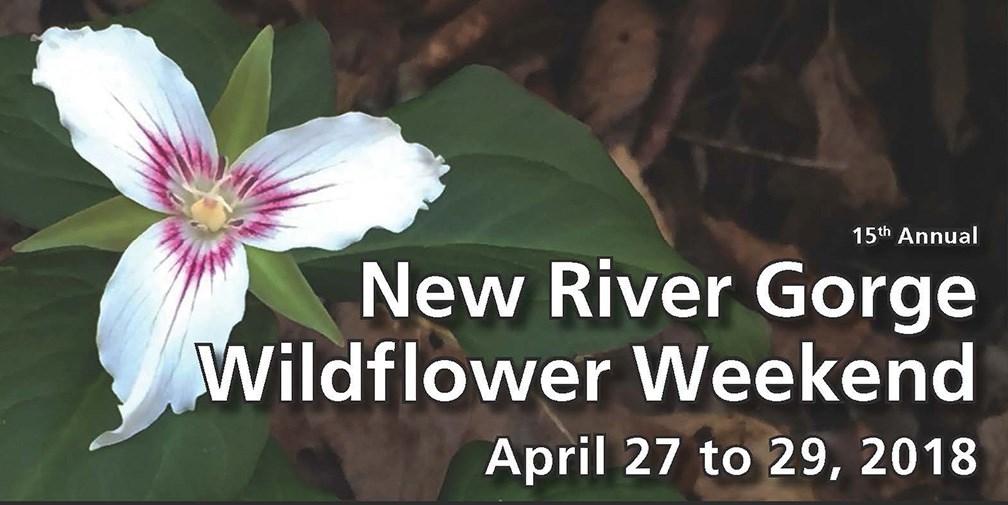 Celebrate Spring in Appalachia at the Fifteenth Annual New River Gorge Wildflower Weekend
Join us for ranger-guided programs in local national and state park sites!
April 27-29, 2018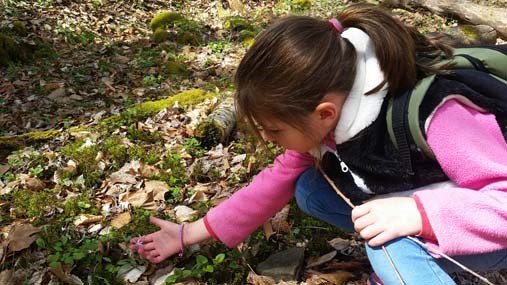 Become a citizen scientist at New River Gorge! Discover the ever changing face of the season from the rim of the gorge to the river with rangers and naturalists at free guided hikes in parks. Enjoy the spirit of spring at a variety of art demonstrations and exhibits. Contribute your nature observations as well, helping document the diversity of Appalachia. Join in on the fun at New River Gorge National River, Tamarack, and the West Virginia State Parks of Babcock, Carnifex Ferry Battlefield, Hawks Nest, Pipestem Resort, and Twin Falls Resort for this celebration of spring.
All programs are free! Bring water and wear sturdy hiking shoes for guided walks. Snacks, binoculars, a hand lens, and a favorite field guide are also useful.
For more information call 304-466-0417.


2018 Wildflower Weekend Schedule of Events:
Early Event Bonus; April 15, 2018
Nature in Focus: Floral Photo Walk
2:00 pm to 4:00 pm, Glade Creek trailhead on Glade Creek Access Road in New River Gorge National River near Prince WV.
Capture the essence of spring in this combination of basic wildflower identification and photography. Join WV Professional Photographer Steve Jesse and photographers of Beckley Camera Club to learn and try tips and tricks useful with any camera, including smartphones. All experience levels welcome for this focus on fun and creativity. Bring your favorite camera and photo accessories.
Reservations required; call 304-574-2115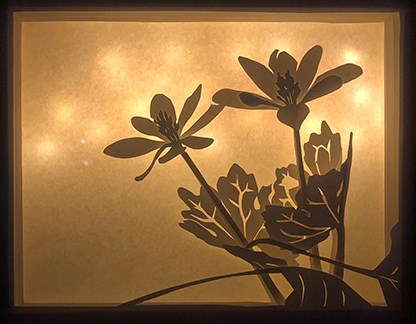 Early Event Bonus 2; April 21, 2018
Arts of the Parks: Wildflower Shadowbox Workshop
2:00 pm to 5:00 pm, Fayetteville Convention & Visitor Bureau, 310 North Court Street, ayetteville, WV.
See how nature inspires art as you create a unique wildflower shadowbox with artists and members of the Fayetteville Arts Coalition. $30 for art materials. Tools will be available or bring your favorite, sharp X-ACTO knife and cutting mat. Limited seating available.
Reservations required by April 20 by 5:00 pm at
https://www.eventbrite.com/e/art-of-the-parks-wildflower-shadowbox-workshop-tickets-44043498289
Friday, April 27, 2018
Handy Work for the Earth: Garlic Mustard Pull
Celebrate Earth Day a bit late and lend a helping hand to the ecosystem. Team up with park staff to help remove a troublesome invasive species, garlic mustard. Wear long sleeves, long pants, sturdy walking shoes, work gloves, and bring water.
Reservations requested by April 24
9:00 am to 12:00 pm, Glade Creek trailhead on Glade Creek Access Road in New River Gorge National River near Prince, WV. Call 304-465-2634 or email adrienne_jenkins@nps.gov
9:30 am to 12:30 pm, Pipestem Resort State Park in Pipestem, WV. Meet at Pipestem's Nature Center. Follow the County Line Trail to the River Trail, then finish at McKeever Lodge. Transportation back to your vehicle will be provided. Call 304-466-1800 ex. 344
Sunset Sketcher Nature Stroll
4:30 pm to 7:30 pm, Endless Wall
Trail's Fern Creek Trailhead in Lansing, WV.
Explore diverse forests and see one of the best views of the New River Gorge on this leisurely 2 mile moderate hike. Capture some of these natural wonders by trying your
hand at nature journaling along the way as we discover details of nature with every sketch and observation. Bring your favorite blank journal and drawing tools. Some art tools will be
available. No advance art experience necessary.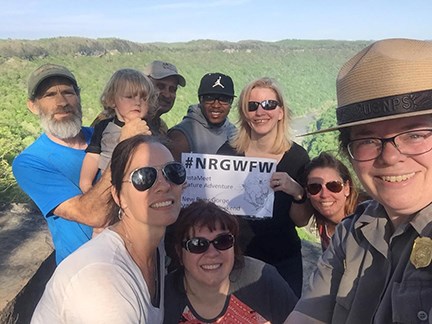 Saturday, April 28, 2018
Yoga Chi at Grandview
8:00 am to 9:00 am, Grandview Visitor Center at New River Gorge National River in Grandview, WV.
Start this spring morning with a combination of two meditative art forms in this yoga and tai chi blend. Perfect for people of all ages and abilities.
Hike Into Spring!
9:30 am to 2:00 pm, Grandview – Shelter #4 at New River Gorge National River in Grandview, WV.
Join naturalists on a leisurely 2.5 mile hike from Grandview down to the New River,
finding wildflowers and other natural wonders along the way. Be prepared for some steep terrain as we travel down an old dirt road. A free return shuttle will be provided.
Reservations requested by April 24; call 304-466-0417
Old Growth Nature Trek
4:30 pm to 6:30 pm, Patterson House at Carnifex Ferry Battlefield State Park in Summersville, WV.
Hike to Pierson Hollow's old growth forest to take a close look at this diverse
ecosystem, including the plants and animals that call it home. Bring your favorite field guides or smart devices pre-loaded with nature apps to help document as many species as we can,
plus keep an eye out for rare or threatened species. Be prepared for an easy 1 mile hike with some moderate terrain.
Sunday, April 29, 2018
Spring Birding at Babcock
8:00 am to 10:00 am, Glade Creek Grist Mill at Babcock State Park in Clifftop, WV.
Stroll the diverse habitats of Babcock in search of regional beauties, birds. Bring binoculars, your favorite field guides, or smart device pre-loaded with nature apps. Some binoculars will be available.
Hawks Nest Botany and History Blast
12:00 pm to 3:00 pm, Hawks Nest State Park's CCC Shelter at the Hawks Nest overlook (behind the gift shop) just off US 60 in Ansted, WV.
Explore the heritage of Hawks Nest with a mix of nature and history on this 2 mile moderate walk, from the tragic construction disaster, to the building of the park by the CCC, to today's celebrations of the site's natural diversity.
Spring Southside Stroll
1:00 pm to 4:00 pm, Southside Trailhead next to Brooklyn Primitive Campground near Cunard, WV (one mile upstream of the Cunard River Access).
Get active with a refreshing springtime hike along the path of an old railroad line, the
Southside Trail. Blooms, buds, New River, and historic sites will be seen along the way during this 5 mile adventure. Reservations required (call 304-894-2129 or email getactiveinthepark@gmail.com)
Falls & Flowers: the Nature of Brush Creek
1:00 pm to 4:00 pm, Nature Center at Pipestem Resort State Park in Pipestem, WV.
Enjoy waterfalls and blooms along Brush Creek on this moderate 3 mile walk. Meet at Pipestem's Nature Center to car caravan to the trailhead 20 minutes away.
Hot ID: Skills with Apps and Guides
2:30 pm to 5:00 pm, Stone Cliff Trail near Thurmond, WV.
Hike 2 miles along the New River and try your hand at species identification using the hottest flora and fauna ID tools, from new technologies to traditional field guides. Bring your favorite
nature ID tools, like field guides or smart device pre-loaded with nature apps. Some tools will be available. Share your favorite nature identification tips and techniques too.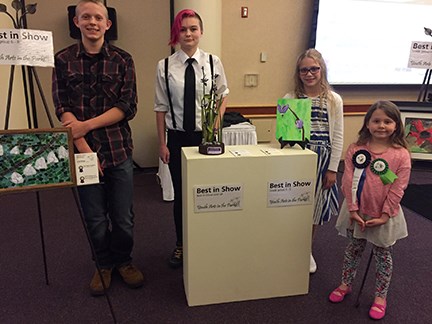 Youth Arts in the Parks 2018 Applachian Spring Wildflower Art Exhibit
April 6 through May 8, 2018
Tamarack in Beckley, WV
7:00 am to 8:00 pm daily, art exhibit in the theater lobby of the Hulett C. Smith Theater and the David L. Dickirson Fine Arts Gallery.
Students from Fayette, Nicholas, Raleigh, and Summers Counties celebrate regional ecology through art in this special exhibit. Each work was inspired by an area wildflower. #NRGYAP
Spring Photography Workshop at Twin Falls State Park
April 27-29, 2018
Learn and practice new digital and film photography skills, plus hone old ones. Use the beauty of Twin Falls Resort State Park and natural wonders of spring as a backdrop for this adventure with instructors Steve Shaluta and Steven Wayne Rotsch. Workshop topics include: equipment, composition, use of natural light, posing people, action photography, digital imaging, using computer software, and more.
Call Deana at 304-294-4000 for class details and workshop prices. Workshop price start at $80; lodging/meal packages also available ($176 and up).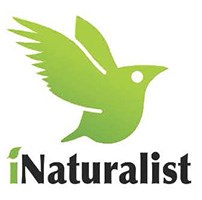 Be a Citizen Scientist
Share Your Nature Observations
Explore, learn, and record your observations for FREE.
Download the iNaturalist app on your smart device from the app store.
Make an iNaturalist account.
Join the New River Gorge National River project list.
Start making observations in the park and become a citizen scientist, sharing your sightings anytime.
Last updated: November 8, 2018