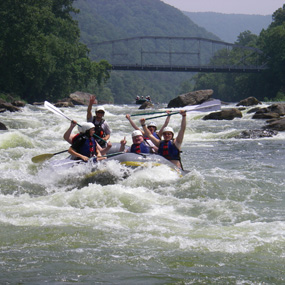 A number of licensed outfitters offer guided trips on the New and Gauley Rivers. Trained guides, equipment, instruction, transportation to and from the river, and meals are provided. Trips vary in length from several hours to several days, and offer different degrees of difficulty -- from peaceful float and fishing trips to crashing whitewater excitement.
The New River has trips available almost year-round, with the season running from April through October. Ranging from mild pools and riffles on the upper parts to big whitewater rapids in the lower section, the New offers something for everyone.
The Gauley River is more for the whitewater enthusiast, with a number of steep and technical rapids. The main season is early-September through mid-October, though trips are sometimes available at other times of the year.
---
List of commercial outfitters licensed by the West Virginia Department of Natural Resources:
ACE Adventure Resort
800-787-3982
www.aceraft.com
North American River Runners
800-950-2585
www.narr.com
Wildwater Expeditions
800-982-7238
www.wvaraft.com
ACE/ North American River Runners/ Wildwater combined and are located near Minden, WV.
Class VI-Mountain River
800-252-7784
www.class-vi.com
Rivermen
888-406-0917
www.rivermen.com
Songer Whitewater
800-356-7238
www.songerwhitewater.com
Combined as "Adventures On-the-Gorge" and are located near Ames Heights, WV.
River Expeditions
800-463-9873
www.raftinginfo.com
Rivers/ Extreme/ Appalachian Wildwaters/ USA Raft combined as "River Expeditions", and are located near Fayetteville, WV
West Virginia Adventures
800-292-0880
www.trywva.com
New and Gauley River Adventures
800-759-7238
www.gauley.com
Alpine Ministries
800-806-2180
www.alpineministries.com

Cantrell Ultimate Rafting
304-228-4285
www.cantrellultimaterafting.com