Visitor Centers

Start your visit to New River Gorge National River at one of our visitor centers, where you can find maps, information, interpretive displays, and a book store. Canyon Rim Visitor Center is open from 9:00 am to 5:00 pm year round. Sandstone Visitor Center is open daily from 9:00 am to 5:00 pm daily; closed intermittently from December through March (see below for special winter hours). All visitor centers are closed on Thanksgiving, Christmas, and New Years Day). Grandview and Thurmond Depot are seasonal visitor centers, open from Memorial Day through Labor Day, and sometimes intermittently after Labor Day depending on staffing.

In support of federal, state, and local efforts to slow the spread of the novel coronavirus (COVID-19) all park visitor centers are currently closed. Rangers are staffing an outdoor information center at Canyon Rim Visitor Center daily.
Winter 2019-2020 Visitor Center hours:
Canyon Rim Visitor Center in Lansing will remain open seven days a week, from 9:00 am to 5:00 pm. Visitor Centers will be closed on Christmas and New Year's days. Sandstone Visitor Center will be closed from December 9, 2019 through May 2020.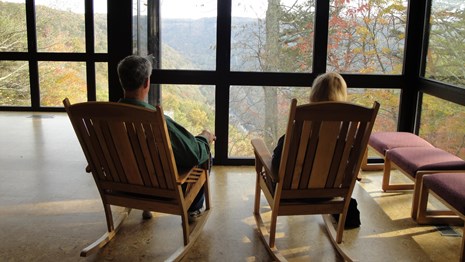 Canyon Rim Visitor Center
Canyon Rim Visitor Center sits on the edge of the gorge by the New River Gorge Bridge.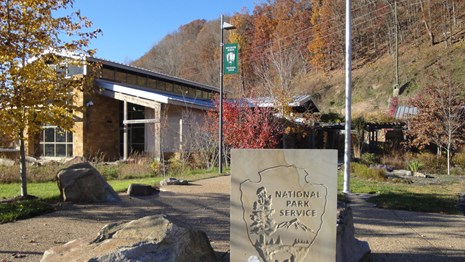 Sandstone Visitor Center
Visit our green design visitor center in the south end of the park.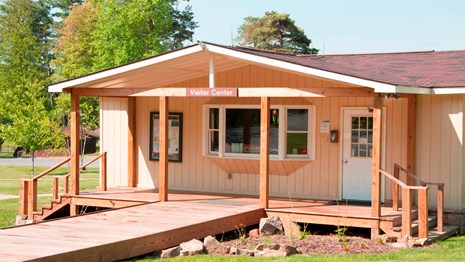 Grandview Visitor Center
The Grandview Visitor Center overlooks the deepest part of the gorge.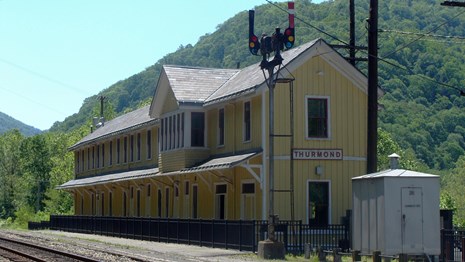 Thurmond Depot
The seasonal visitor center at Thurmond is located in an old railroad depot.


Last updated: July 14, 2020