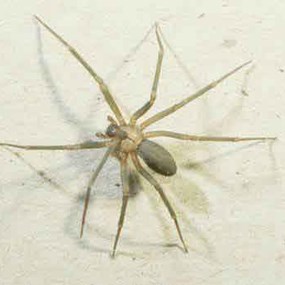 Poisonous Spiders
Only two types of poisonous spiders may be found in the New River Gorge area; the black widow and possibly the brown recluse, whose range may be expanding into this area. While these spiders are rarely encountered on hikes or picnics, it is still important to be able to identify these spiders in case a bite is received.
Brown Recluse:
Description:
• Has a violin shaped mark on its back
• A body length of 10 to 12 mm.
• 6 eyes instead of the typical 8

Habitat:
Outdoors:
• Beneath Rocks
• Under Debris
• In or around abandoned buildings
Indoors:
• In attics and cellars.
• Storage rooms and crawlspaces.

Symptoms:
• Reaction varies from just a little red mark with no pain or other symptoms to more severe symptoms such as tissue damage and intense pain.
• Itching, chills, fever, nausea, vomiting, shock
• A small white blister usually forms at the bite site; the affected area may become red and tissue may be hard to the touch.
• A dry blue-gray or blue-white lesion may form.