Poison ivy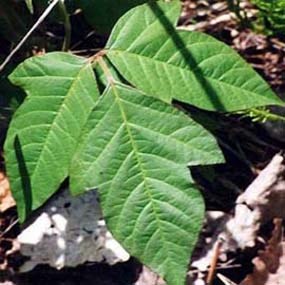 "Leaves of three, leave them be!" Poison Ivy is plentiful throughout the New River Gorge area. The plants may grow as a shrub up to about four feet tall, as a groundcover four to ten inches tall, or as a climbing vine that sends out branches appearing as tree limbs. The colors of poison ivy vary from light to dark green, turning bright red to orange and yellow in the fall; the leaflets may be shiny or dull.

Poison ivy produces an oily skin irritant that causes an itching rash. The best prevention is to avoid contact; however, if exposed wash the affected area with soap and cold water as soon as possible. It takes several minutes for the oil to penetrate the skin. Do not burn wood that has been entangled in poison ivy or the vine itself. The fires can carry the irritant in the air and can cause serious irritants to the eyes, nose and throat.
Characteristics that help to make a positive identification of the plant:
Clusters of three almond-shaped leaflets.

Alternate leaflets

Lack of thorns.

If it is growing up the trunk of a tree there will be a presence of root-hairs.
Last updated: December 5, 2017