Places To Go

There are many special places to visit in New River Gorge National River. The park offers breath-taking views from the rim of the gorge, a wide variety of plants and animals that make the park their home, and many historic sites that help tell the story of people in the area. There are places that offer the excitement of white-water rafting or rock climbing, to places more suited for relaxation and reflection. A good place to begin exploring this unique area is from one of the visitor centers. There you can get maps, information, ask questions, and plan your course through the park. Below is a list of places you may want to consider visiting during your time at New River Gorge National River.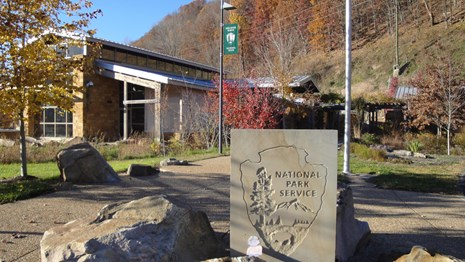 Visitor Centers
Stop by one of the park's four visitor centers to find maps, information, learning opportunities, and help planning your visit
New River Gorge Bridge
The New River Gorge Bridge, the longest steel span in the western hemisphere, spans the New River Gorge, 876 feet over the river,
Grandview
Perched on the edge of the gorge 1400 feet above the river, Grandview provides some of the best views of the gorge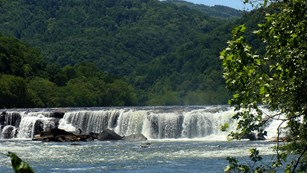 Sandstone Falls
The largest waterfall on the New River, the spectacular Sandstone Falls drops the river 15 to 25 feet around a series of islands.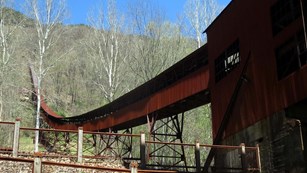 Nuttallburg
The remains of a tipple, coal conveyor, coke ovens, and buildings tell the story of one of the gorge's most significant coal mining towns.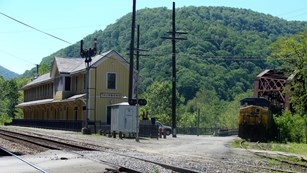 Thurmond
A historic RR town, Thurmond recaptures the days when steel rails, steam, and coal were the major themes in our nation's history.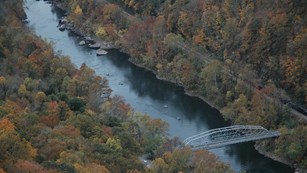 Fayette Station Road
Exploring Fayette Station Road is to travel back in time before the modern New River Gorge Bridge was built in 1977.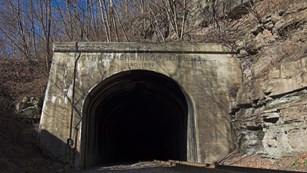 Prince
The small town of Prince still has an operating railroad depot and is the jumping off place for the drive to Glade Creek.


Last updated: November 20, 2019