Pets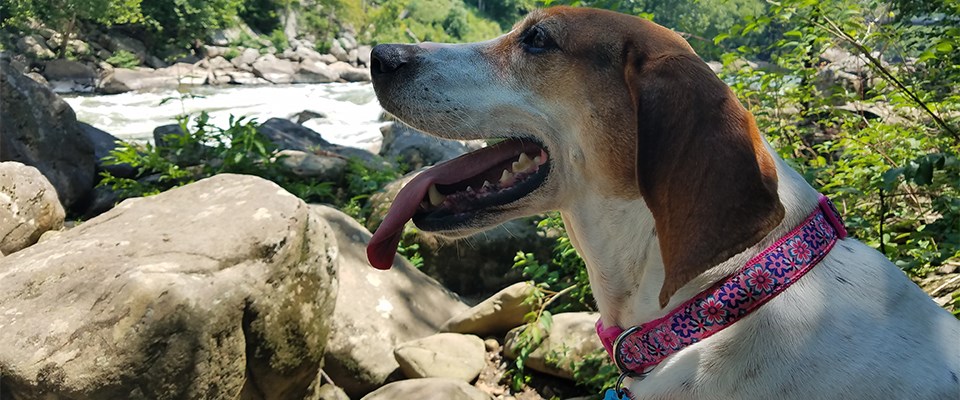 Pets are allowed on all trails at New River Gorge National Park and Preserve. We created our park rules for pets in a way to maximize safety and enjoyment for everyone. These rules allow visitors to enjoy the park with their pets while protecting park wildlife, ecosystems, and visitors. If you choose to bring your pet to New River Gorge please be sure to follow our park pet policies.
Park Pet Policies:
Pets are not allowed in any park buildings or visitor centers in compliance with federal regulations.


Pets must always be on a physical leash no longer than 6 feet. Leashes protect pets from becoming lost, encountering dangerous animals, or scaring wildlife. Leashes also protect other visitors who may be afraid or allergic to pets or do not want a pet approaching them.
Pick up your pet's waste and throw it away in the trash to keep the park's ecosystem healthy and enjoyable.
Bring extra water for your pet to drink when hiking. Streams in the park may contain harmful bacteria or parasites such as Giardia. Water fountains or bottle filling stations are available at every visitor center. There is no drinking water available at the trailheads.
Pets are not allowed at ranger led programs. This avoid conflicts with other animals such as wildlife and respects other visitors.
Service Animals
Qualified service animals as
defined by the ADA
are permitted throughout the park including in visitor centers, in park buildings, and on ranger led programs. Service animals are dogs who are trained to assist people with disabilities. Animals whose sole purpose is to provide emotional support or comfort are not service animals and are not permitted in park buildings or on ranger led programs.
Please keep in mind that all service animals are still subject to other park regulations including those regarding leashes and disposal of waste.
Last updated: June 17, 2023