Heat and Cold Related Illness

Hypothermia
Hypothermia is a medical emergency that occurs when your body loses heat faster than it can produce it, causing a dangerously low body temperature. Hypothermia can happen even in the summer, so always be prepared!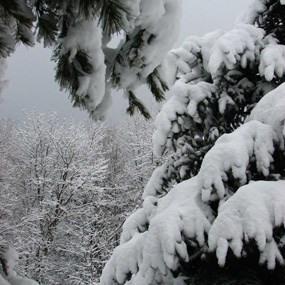 Hiking
You never know what the weather might do, so anytime of year make sure you are prepared for anything.
Always take an extra pair of dry clothes, especially dry socks. If your cloths become wet, replace them.
Always pack a sweater or jacket, warm hat, and rain gear for any hike.
Wear clothing that wicks away moisture
Avoid sweating by dressing in layers
Swimming
Hypothermia most often occurs when in water. Water temperature will always be colder than the outside air.
Do not swim on a cold day.
Wear appropriate swim clothes.
Warm up after swimming; do not stay in wet clothing.
Take dry clothes to change into after swimming; especially dry socks and shoes.
No matter what the temperature is outside, take a jacket.
Rafting
No matter how warm it is outside you will be wet most the day, so wear appropriate clothing. Water temperature will always be colder than the outside air.
Wear quick drying clothing (such as nylon).
Also take a quick drying jacket, one made for rain or water.
DO NOT wear cotton or jeans. They will hold the water and make you very cold.
Have a pair of dry clothes where you will be getting out, including dry socks, shoes, and a jacket.
Symptoms of Hypothermia
Uncontrolled shivering
Loss of coordination; clumsiness and stumbling
Slurring of speech
Confusion or difficulty thinking
Drowsiness and very low energy
Shallow breathing, weak pulse, loss of consciousness.
Treatment
Move person out from the cold, take into dry warm place.
Remove the person's wet clothing.
Cover the person with dry blankets, or coats.
If victim is outside place something on the ground underneath them to help warm the body.
Monitor breathing; if victim has lost consciousness make sure to contact emergency services.
If the person is conscious have then drink warm beverages, non alcoholic with no caffeine.
Do not apply direct heat, do not use hot water or a heating pad, the direct heat will damage the skin.
Heat related illnesses:
When spending the day in the sun it is important to protect yourself from sunburn, dehydration, heat exhaustion, and heat stroke.
Sunburn
Prevention:
Wear high protection sunscreen on all exposed skin and reapply every 3 hours.
Stay hydrated and keep your body cool.
Dehydration
Dehydration occurs when the amount of water leaving the body is greater than the amount coming in.
Symptoms:
Thirsty
Dry mouth
Sweating may stop
Muscle cramps
Nausea and vomiting
Lightheadedness
Prevention and treatment:
Keep your body hydrated by drinking plenty of water.
Keep rehydrating.
It is important to hydrate before hitting the trail or river, as well as keeping hydrated throughout the day.
Drink enough to produce light yellow or almost clear urine throughout the day.
Heat exhaustion
Heat exhaustion occurs due to water and electrolyte loss due to sweating.
Symptoms:
Heavy sweating
Pale, clammy skin
Nausea and vomiting
Fatigue
Weakness, dizziness, and fainting
Headache
Muscle cramps and aches
Rapid Pulse
Pale skin
Low blood pressure
Prevention:
Avoid becoming dehydrated and avoid vigorous physical activities in hot and humid weather.
Keep rehydrating your body.
Wear light colored, lightweight, and loose clothing.
Avoid alcohol and caffeine when exercising in the heat
Treatment:
Cool victim down and have them rest in the shade
Drink plenty of water or electrolyte drink
Monitor victims temperature
If vomiting occurs, seek immediate medical assistance
Heat Stroke
Heat stroke is a true medical emergency that can be fatal if not properly and promptly treated. It occurs when undertaking heavy exertion in hot climates.
Symptoms:
Headache
Drowsiness
High body temperature
Rapid pulse
Not sweating with hot red or flushed dry skin
Difficulty breathing
Strange behavior; decreased mental status, confusion, or disorientation
Irritability
Shock
Convulsions or seizure
Sudden collapse
Prevention:
Avoid becoming dehydrated and avoid vigorous physical activities in hot and humid weather.
Keep rehydrating your body.
Wear light colored, lightweight, and loose clothing.
Avoid alcohol and caffeine when exercising in the heat
Treatment:
Contact emergency services
Move victim to a shady place and cool down by bathing or sponging with cool water
Apply cool water and place icepacks on the neck, abdomen, armpits, and groin
Monitor victims temperature
Last updated: December 5, 2017