Fayetteville Area Trails
Many of the trails in the Fayetteville area were designed and built by volunteers. Some of the trails existed before the park acquired the property, but needed maintenance or trail re-routing. The park was assisted in some of the preliminary trail design and construction by a Trail Care Crew from the International Mountain Bike Association (IMBA).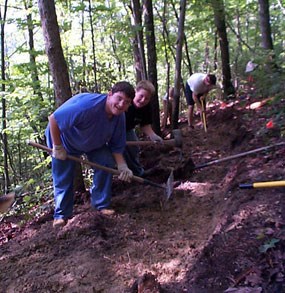 Local volunteers from schools, scout groups, and bicycling and hiking clubs donated hundreds of hours of work to make these trails possible.
The trails in the Fayetteville area can be accessed from a number of different trailheads, and allow connections to trails in the Kaymoor area (and beyond). The most popular trailhead is probably located at the Fayetteville Town Park, where visitors also have access to the town playground, a .5 mile paved walking trail, and might be able to take in a baseball or softball game.
Last updated: June 27, 2022