Climbing Guide Certification Guidelines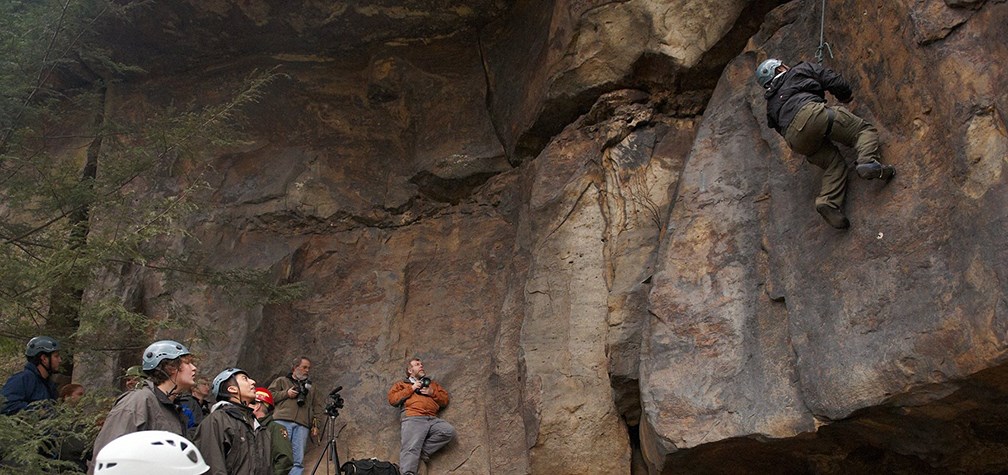 New River Gorge National River has established that the following criterion will be utilized when reviewing alternative climbing guide certification and determining its equivalency to the American Mountain Guides Association (AMGA) single pitch instructor level.
Organizations applying for recognition as a climbing instructor certifier must provide training materials, such as course syllabus or textbook, for evaluation by the park's rock climbing program manager to ensure the course of instruction covers three primary areas: 1) the organization applying for certification equivalency approval will certify in writing climbing instructors have successfully completed the course curriculum and are capable of providing safe climbing instruction; 2) the course will include a minimum of 24 hours of instruction, plus an exam where proficiency is measured; 3) the course will cover contemporary baseline skills for safe climbing as follows:
Knots and Rope Management:
At a minimum the curriculum will include:
Bowline, figure-eight and double figure-eight, overhand, figure-eight follow-through, water knot, double fisherman's, munter, and prussic.
Instruction in what knots need to be "backed-up".
Belaying and Device Types:
An overview of intermediate, slick, grabbing, and locking belay devices. Examples: figure-eight, ATC, Gri Gri, etc.
The proper use and operation of the chosen device in order for the device to be effective.
Anchor Position, Assessment and Systems
Creating sound anchors that will be used as workstations.
Setting the anchor directly above the climb.
Sound placements of the anchor.
Anchor system distributes the load equally.
Anchor system has redundancy (if any point in the system was to fail, there must always be another part that will take the load).
The load is spread equally.
Instruction includes the use of natural anchors (trees, rocks, etc) and artificial anchors (stoppers, camming devices, etc.).
Safety aspect of loading a carabiner (three-way loading, loading a carabiner over an edge, cross loading, etc.).
Overview of self-equalized and pre-equalized anchors.
Belaying:
Instruction in top and bottom belays.
Belays will include a back-up (catastrophe knot, back-up belayer).
Rappelling:
Back-up belay using a separate belay line or "fireman's belay".
The use of a "releasable" rappel.
Safety considerations (loose items, clothing, etc.).
Ascending to Assist Climbers:
Ascending a single or double strand rope using friction hitches.
Counter ascending a rope to rescue/assist a climber.
The use of pulleys and raising systems to rescue or assist a climber
Additional Topics of Instruction:
Inspecting equipment and when it should be replaced.
Environmental concerns (lightning, rock falls, etc.).
Last updated: December 8, 2017