Church and the African American Community: Mt. Chapel Missionary Baptist Church; Ansted, WV

In 1865, when enslaved Africans were emancipated from slavery in America, they faced the immediate challenge of creating their own communities. African Americans had descended from a rich religious and spiritual West African tradition, and were then exposed to Christianity during enslavement. Consequently, securing a place to worship consistently became, and has remained, a part of African American community development since Reconstruction.1

Although African Americans in the region of Ansted, West Virginia were few in number throughout the antebellum/agrarian era, their numbers increased after West Virginia achieved statehood in 1863. Blacks workers became a necessary labor force during the initial years of West Virginia industrialization. The first African American industrial workers were employed in the region in the early 1870s with the construction of a branch of the C&O Railway and the opening of the Gauley-Kanawha Coal Company in Hawk's Nest.2 In 1889, entrepreneurs and investors dissolved that company and created the Gauley Mountain Coal Company (GMCC), shifting coal mining from Hawk's Nest to nearby Ansted.3 Ansted was incorporated in 1891.

Whereas African American presence had been miniscule, the demands of coal mines and coke ovens prompted a steady increase in the number of black workers and residents. Consistent with the traditional establishment of African American communities, Ansted residents soon began to address their religious and spiritual needs by congregating in homes for prayer meetings. In October of 1891, a revival took place and approximately twenty candidates were received for baptism. State Missionary Reverend Coleman agreed to administer baptism and organize a church.4 The community soon petitioned the Gauley Mountain Coal Company to construct a church building. The congregation accepted the responsibility of paying $75 for labor, and Mount Chapel Missionary Baptist Church was constructed. A stipulation was that the building would revert back to coal company property once the church ceased to exist.5 A cemetery was opened in 1893.6

Due to the prevalence of churches in the New River region and the dearth of ministers to pastor those churches, it became customary for ministers to officiate at more than one church. Initially, Mount Chapel Baptist Church held church service only on the third Sunday of each month. Eventually, there was both a service and Sunday school on the first and third Sundays.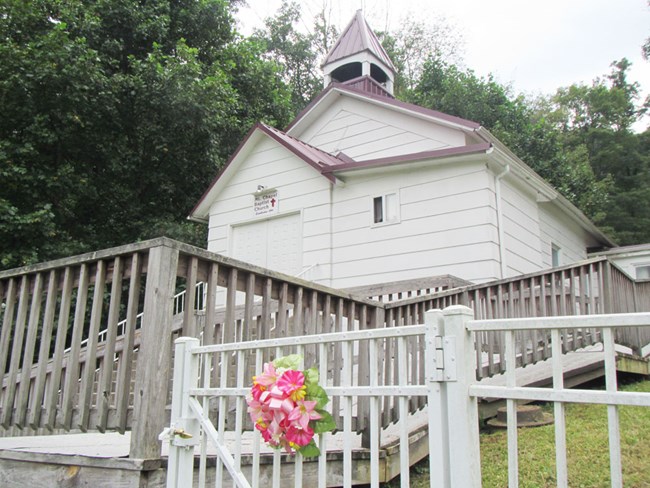 As in many African American communities, the Ansted African American church became the center of the community's existence. Most African American residents of Ansted were church members, and it was through the church that many of their cultural, individual, and family needs were met. The minister's message, soul-stirring spirituals, and biblical teachings provided inspiration and guidelines for daily life. Church members could be counted on to help celebrate births, weddings, and baptisms, as well as to give support and comfort when deaths or other tragedies occurred. Church-related activities involved residents in special projects and recreational pursuits. In addition to Sunday services, there were prayer meetings, Bible study, revivals, church operating and planning meetings. Annual affairs included homecoming, the pastor's anniversary, picnics, and gospel sings. Mount Chapel Missionary Baptist Church, the sole African American religious institution in Ansted, served not only an important religious function, but also a social function.
7
While the Gauley Mountain Coal Company defined the economic expression of the Ansted community, Mount Chapel Missionary Baptist Church defined spiritual beliefs that influenced the attitudes and actions of its African American citizens.
1.
Eric Foner,
Reconstruction: America's Unfinished Revolution, 1863-1877
(New York: Harper & Row, 1988), 88-94. John Hope Franklin,
From Slavery to Freedom: A History of Negro Americans,
6
th
ed., (New York: McGraw Hill, Inc., 2000), 24-27, 257-258.
2.
Gauley Mountain Coal Company, "History of the Gauley Mountain Coal Company," [TMs], 1928, Ansted, WV, 3.
3.
Louis Athey, "William Nelson Page: Traditional Entrepreneur of the Virginia's,"
West Virginia History
46 (1985-86): 5, 1-24.
4.
Beverly Walkup, "Services Were Held Before Church Organized,"
The Fayette Tribune
, 12 September 1991, 7.
5.
Ibid.
6.
Mount chapel Baptist Church, "Homecoming - Church Anniversary Program," 2014.
7.
Brucella Jordan,
African American Migration to Ansted, West Virginia,
Ansted: African American Heritage Family tree Museum, 1998, 13-17;
Oral Interview with Norman Jordan,
African American Heritage at New River Gorge National River: Special Ethnographic Report
, Boston: Northeastern Regional Ethnography Program National Park Service.
Last updated: February 9, 2017