Carter G. Woodson: Winona, WV

"When you control a man's thinking you do not have to worry about his actions. You do not have to tell him not to stand here or go yonder. He will find his "proper place" and will stay in it. The mere imparting of information is not education." Carter G. Woodson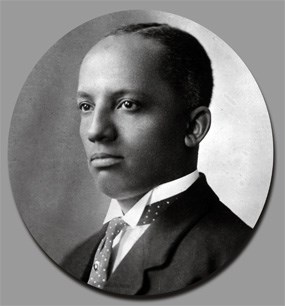 West Virginia can boast of more than its share of great African-American leaders. Booker T. Washington and Henry L. Gates are among those who have made significant impacts on American thought and culture. Another leader who made a deep impact was Carter G. Woodson, the educator, historian, and publisher who founded the whole genre of African-American history. Woodson was the only American of slave parentage to earn a Ph.D. in history. He wrote and published nineteen books and numerous articles, founded the first scholarly journal dedicated to African-American history, and started Negro History Week, which eventually became our current Black History Month.
Although Dr. Woodson's greatest achievements came later in life while he lived in Washington, D.C., his spent his formative years in West Virginia as a coal miner and educator. Woodson was born in 1875 near New Canton in Buckingham County, Virginia. Both his father and mother were former slaves. Poor, but fiercely independent, his father valued education and taught Carter to be "polite to everybody, but to insist always on recognition" and respect. Frustrated by the lack of opportunity in Virginia, young Woodson left the family farm in 1892. He followed the Chesapeake & Ohio Railway into the New and Kanawha River region and found work on the railroad laying ties near Charleston.
Woodson went to work at the Nuttallburg mine in the New River coal field at the age of seventeen or eighteen. He worked hard in the mines, but also worked to receive an education and learned what little there was available on black history. Oliver Jones, who operated a tearoom for black miners out of his home, upon learning that Woodson was literate, engaged him to read the daily newspapers to the miners in return for free treats. Woodson later referred to Jones's establishment as "all but a reading room," with volumes that described black history, particularly stories of Black Civil War veterans. His political education grew also as he read "speeches, lectures, and essays dealing with civil service reform, reduction of taxes, tariff for revenue only, and free trade."
Woodson left Nuttallburg in 1895 and returned to Huntington to attend Frederick Douglass High School, the city's only black high school. He graduated in two years, and enrolled at Berea College in Kentucky, one of the few colleges that offered interracial education. He enrolled for only one quarter, but he picked up enough credits later at the University of Chicago to earn his bachelor's degree from Berea in 1903.
Woodson returned to Fayette County in the late 1890s to teach at a school in Winona, just five miles from Nuttallburg. According to his biographer, he taught at "a school established by black miners for their children" from 1897 to 1900. The 1900 Federal Census lists Carter G. Woodson as a "boarder" in the household of William M. Shorts. It also notes that he is 23 years old, single, Virginia-born, and working as a "Public School Teacher."
Woodson left Winona in 1900 to return to Huntington where he taught history and was the principal at Douglass High School until 1903. From 1903 to 1907, he traveled to the Philippines to teach and serve as supervisor of schools and teacher-training. Woodson returned to the United States to attend graduate school. He obtained his master's degree in history at the University of Chicago, and his doctorate in history from Harvard.
Dr. Carter G. Woodson settled in Washington, D.C. where he taught in the segregated black schools of the nation's capital, published his first works on the history of black education, and founded the Association for the Study of Negro Life and History in 1915. As Director of the Association, Dr. Woodson launched a celebration of Negro History Week in 1926. He chose the second week of February to commemorate the birthdays of Frederick Douglass and Abraham Lincoln. The annual week-long celebration was expanded into Black History Month in 1976.
Last updated: February 3, 2017